It's safe to say that Estée Lauder revolutionized the landscape of American perfumery and permanently changed the way women think of fragrance. Her first fragrance, Youth Dew, was ingeniously introduced in 1953 as a bath oil for everyday use. During World War II, perfume had become difficult to obtain and American women were not used to wearing fragrance every day. They did use bath oils, however, and Estée Lauder capitalized on this by marketing her new scent as a bath oil and a perfume.  Blown apart was  the preconceived notion of perfume as a gift from a man.
Created in 1985, Beautiful is a romantic scent embodying femininity, softness and romance. There is a wholesome quality to this floral, bursting with notes of fruit and wildflower. It reminds me of the sweet girl next door who secretly yearns for adventure.
Underneath a very 1980s sweet intensity, Beautiful exudes a bright, herbal and woody base. The initial impression is a tantalizing mix of bergamot and lemon, leading into heart notes of rose, ylang-ylang, lily of the valley, lilac, carnation, sage, narcissus, mimosa, freesia, chamomile, jasmine, neroli and magnolia. The dry down is a captivating mix of sandalwood, vetiver, musk, vanilla and cedarwood.
Lauder supposedly received the inspiration to create Beautiful by the gardens of Giverny, the very same gardens that inspired Monet.
Some of my favorite Estéée Lauder quotes:
"Beauty is an attitude. There's no secret. Why are all brides beautiful? Because on their wedding day they care about how they look. There are no ugly women – only women who don't care or who don't believe that they are attractive."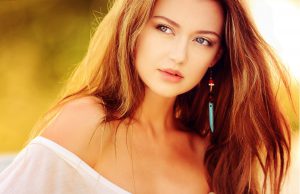 "In a perfect world, we'd all be judged by the sweetness of our souls. But in our less than perfect world, the woman who looks pretty has a distinct advantage and, usually, the last word."
"I never dreamed about success. I worked for it."
"Keep your own image straight in your mind."
"Act tough." "Trust your instincts." "Write things down." "Hire the best people." "Give credit where credit is due." "If you don't sell, it's not the product that's wrong, it's you."
I could go on and on, but you get the idea of the type of woman who dreamed up this distinctive scent. Although she created Beautiful over 30 years ago, it continues to be a top-selling perfume as well as a reminder of Lauder's unique vision and outlook.
Beautiful can be purchased in many department stores as well as online. I recommend buying it on Amazon which has the lowest prices plus you'll spare yourself that painful trip to the mall.
A 2.5 oz. bottle of the eau de parfum is around $57.00 on Amazon, as compared with $78.00 at Nordstrom and $90.00 at Macy's and Bloomingdales.
There are many knock-offs currently being sold for much less so please remember…If it sounds too good to be true then it probably is…
Beautiful also comes in a wonderful smelling body lotion that is not cloying or overbearing. I wear it either on it's own or laying with another light feminine perfume.


Wear this delightful fragrance whenever you want to feel refreshed, comforted and BEAUTIFUL!