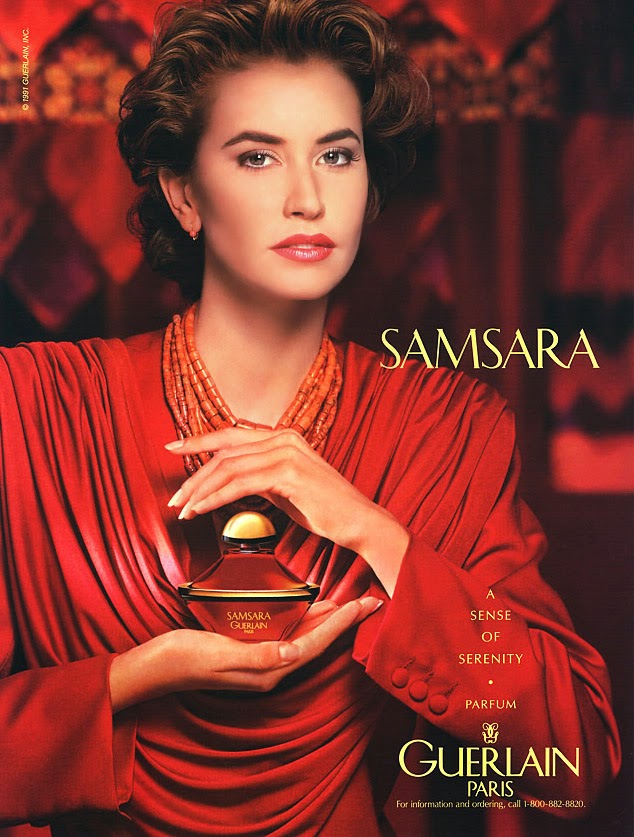 A gorgeous perfume from the house of Guerlain, Samsara is an intoxicating Oriental blend with narcotic floral accents. The name Samsara comes from a Sanskrit word meaning "wheel of life" and it signifies an infinite cycle of births and rebirths which are repeated until perfection is attained. Since it was first introduced in 1989, it is one of the most sought after vintage scents and is still quite popular since its many reformulations.
The main notes of the perfume are jasmine, rose and yang-ylag which are mixed with balsamic sandalwood, vanilla and tonka bean. I'm guessing it's the tonka bean that gives Samsara a unique ginger-bread-like aroma.
I was so intrigued by this scent when I first tried it that I felt the need to delve deeper into it's creation. The inspiration for Guerlain's Shalimar is such a great love story and I was hoping Samsara would have an interesting  backstory  too.
 It turns out that Jean-Paul Guerlain made Samsara within the first few trials but carried on working on it for years since he didn't believe that anything could come that quickly or easily. He originally made it as a gift for Decia de Powell, and English woman he had fallen deeply in love with. Decia had never found a perfume that she really liked and so she told him that she loved jasmine and sandalwood. Guerlain used these scents as the main themes for his new creation, which he finished in 1985 and gave to her as a gift. She wore it exclusively for four years before its commercial launch. Jean-Paul Guerlain always said of Decia "I am the stone-mason, she the architect". (The Essence of Perfume by Roja Dove)
Samsara was created during a period when big, exotic perfumes were very popular. The main material that gives Samsara its radiant, opulent and seductive character is sandalwood. While many perfumes contained around two percent of this ingredient, Guerlain pushed the level up to 30 per cent of the composition and mixed the natural sandalwood with Polysantol, a sandalwood synthetic, which further enhanced its character. This is definitely a statement-making perfume with monster sillage. No wallflower this one.
The original bottle was designed by Robert Granaï and was inspired by Cambodian statues found in the Guimet Museum in Paris. The golden cap symbolizes Budda with his eyes shut in contemplation. The color red is the color of spirituality, the same color as the temples of Tibet – the gateway to Nirvana.
The newest reformulation of Samsara comes in the mythical bee bottle. There is a little less depth to the sandalwood but the jasmine and rose smell amazing and it's still a beautiful scent.