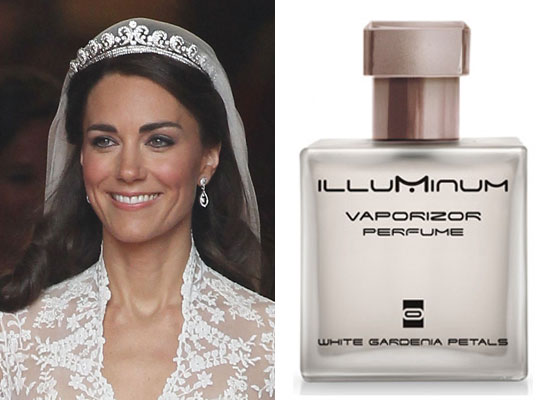 I'd almost forgotten about White Gardenia Petals until I discovered it recently in one of my samples boxes. Whenever I smell a new sample, I label it: ++ (really like), + (nice, worth keeping in mind), and – (not impressed by but not hideous.). The ones that are — are truly awful and aren't saved. White Gardenia Petals Vaporizor Perfume rated a + so I decided to give it a second sniff. My ratings have been known to change the second or third time around.
It's easy to see why White Gardenia Petals became a huge hit when it first came out. London-based perfume brand Illuminum gained instant international interest when it was revealed that Kate Middleton wore its White Gardenia Petals on her wedding day. Of course everyone around the globe was desperate to get their hands on the princess' chosen scent.
Illuminum is a relatively new brand which launched 15 perfumes in addition to White Gardenia Petals in 2011.  The nose behind the fragrances is Michael Boadi, who previously made a name for himself by being a famous hair stylist who's worked with some of the top photographers and models. Boadi is responsible for not only creating the fragrance line but also for the company's packaging and branding.
"The Illuminum collection is for those days when you are in the mood for something exquisitely simple and stylish" says Boadi.
Don't make the mistake of assuming that this is a true gardenia scent a la Kai , Child or Michelle Bergman's Black Gardenia. It's much more of an abstract gardenia scent. There is only a hint of gardenia here, so think of this as containing just a few petals that softly whisper gardenia. What I smell is a lovely floral mix of jasmine, lily and ylang-ylang with a woody, amber base. There are supposedly coconut notes somewhere but I don't get that at all.
If you're looking for a complex scent this isn't it. It reminds me a little of White Linen but warmer and quieter. You need to really like white florals with clean and soapy undertones to appreciate White Gardenia Petals.
A 100ml bottle costs around $150.
PS I've heard that there is an imposter sold under the name of "Royal Blooms" which supposedly smells amazing and is more of a gardenia scent, for a fraction of the price. I haven't tried it.
SaveSave
SaveSave
SaveSave