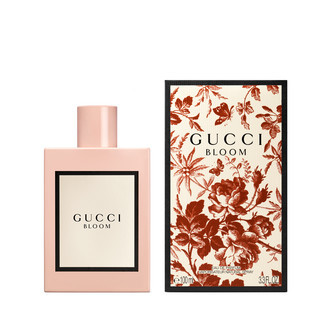 Please don't make the assumption that Bloom by Gucci is just another flowery perfume geared towards millennials. There's no debating that Bloom is a floral fragrance but even the floral haters out there need to give it a chance.
You already know if you are into fashion that Gucci has been killing it recently, thanks in part to  Alessandro Michele, Gucci's creative director since 2015. One of his projects for the fashion house was to release a perfume which he delivered on a few months ago.  
Bloom was not only created under his direction; he also collaborated with perfumer Alberto Morillas on the scent. If his name doesn't ring a bell, Alberto Morillas is the nose behind Giorgio Armani Acqua di Gio, Kenzo Flower, Marc Jacobs Daisy as well as too many others to name.
When I got my first sniff of Bloom at a local Sephora I was really  surprised by how much I liked it. I've felt like a lot of Gucci perfumes recently have been kind of mediocre, not bad but not memorable either.
What It Smells Like:
There's an initial wham bam thank you ma'am blast of tuberose and jasmine.  After several minutes, bloom becomes woodier, sweeter and a little powdery.  It goes from being what is often called a "mature" scent to something with a modern twist.
Curious about what gave Bloom this intriguing quality I did some digging. It turns out that Bloom contains orris root and Rangoon Creeper. Orris root is a material derived from the root of the iris flower and has an earthy, dusty sweetness that is a cross between grass and hay. It's an ingredient that's been used in perfumery for years and is reputed to have the ability to bind and enhance certain other scents. I'm not familiar with Rangoon Creeper although I loved the name right off the bat.
Apparently this plant, also known as Chinese Honeysuckle, has clustered four to five inch blossoms that initially emerge as white, then change colors to pink, and ultimately change to a deep red hue. It is supposed to smell delightfully aromatic, fruity and sweet, with a hint of something resembling coconut. Its aroma is the most pungent at night.
I'm betting it's the Rangoon Creeper that gives Bloom its je nais se quoi ?
In addition to loving the smell of Bloom by Gucci I'm totally in love with its sleek and modern packaging. And that pale pink retro bottle is just too darn cute.
I didn't spring for a full size bottle; even the 1.6 oz bottle would have set me back close to $100. I did however walk out with a rollerball which costs only $34. If my love affair with this fragrance continues I'm sure I'll be back for more.