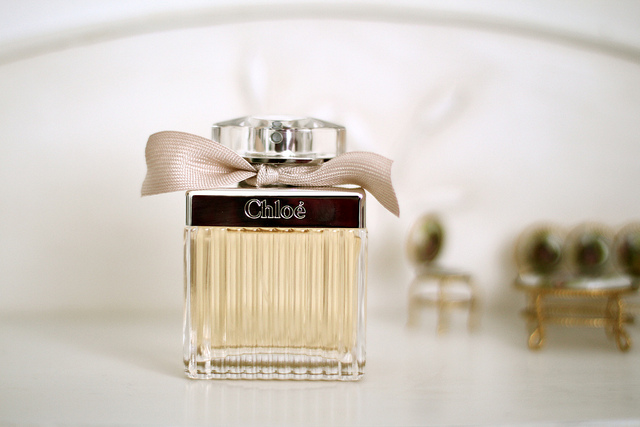 I haven't had the chance to smell the original Chloe launched by Karl Lagerfeld in 1975 but apparently  it was memorable enough to rise to cult status back in the day. The one that I'm reviewing here, Chloe by Chloe, is the one that made its debut in 2008.
I received this as a free sample from Sephora several years ago and it took me a while to like. My initial reaction when spraying it on was meh and I threw it to the side, thinking at least I hadn't wasted any money on it.
It probably won't come as a total shocker but I am something of a perfume snob. I guess I just don't want to smell just like all of the other gals because I'm not like all of the other gals. Which unfortunately puts most mainstream fragrances like Chloe in the position of being overlooked. Unfair I know!
One day I while cleaning out a bathroom drawer I decided to try it again before tossing it and I was pleasantly surprised. There was something really clean and delicate about it, almost like freshly laundered sheets blowing in the wind. I closed my eyes and detected a friendly innocence in the aroma, nothing like the harsh and synthetic Chloe I remembered from before.
It starts out smelling like peony, freesia and lychee, and develops into a captivating heart of lily of the valley, magnolia and rose. The dry down contains notes of amber and cedar wood.
How can I best describe Chloe? The words that come to mind: light, floral, clean and powdery. If you're not into soapy florals you may not be impressed, but I love the clean crispness given off by Chloe. It's like you've just gotten out of a shower after using the highest quality soaps and lay down in a fragrant garden filled with magestic roses and heady magnolia blossoms.
A wonderful "feel good" scent sure to put a spring in your step while going through the trials and tribulations of life.
My review of Chloe's newest perfume, Fleur de Parfum, can be found on my Valentines Day post or by clicking here.