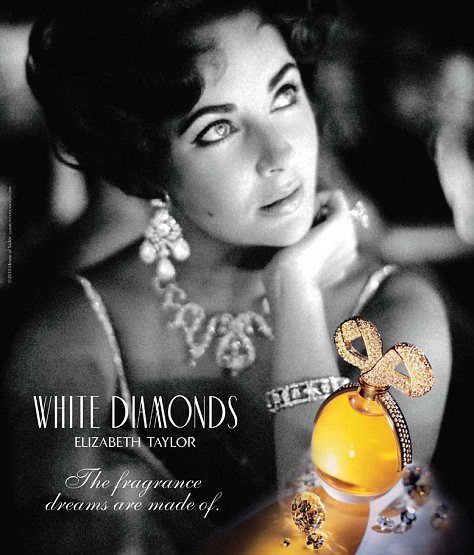 It's almost hard to imagine a time before celebrities didn't launch multiple fragrances, but when Parfums International released White Diamonds in 1991 it was the very first time a celebrity had launched a second feminine fragrance.  Elizabeth Taylor's Passion for Women (1987) had done well but it was nothing like the success of White Diamonds. To date, White Diamonds has earned $1 billion in sales, making it the most popular celebrity fragrance in the world.
In the commercial promoting this perfume, Taylor is drenched in diamonds while watching a high-stakes poker game played by a group of mysterious men. The youngest and best-looking is about to fold his hand when she takes off her earrings and drops them in the pot on his behalf. "These have always brought me luck," she purrs.
We know that perfume and jewelry were two the two biggest material passions in screen legend Elizabeth Taylor's life. Her lifelong passion for jewelry was evidenced in her collection, which is said to have been one of the largest in the world. Over the years she had acquired a number of stunning pieces, such as the 33.19 carat Krupp Diamond which she was known to have worn daily and the 69.42 carat Taylor-Burton Diamond which was given to her by husband Richard Burton.
Much has been written about Elizabeth Taylor's remarkable and often scandalous personal life, which was as dramatic as any movie script, and the world mourned her passing in 2011. From her first film screen appearance at age 12 in National Velvet to her alcoholic seductress role in Butterfield 8 and Who's Afraid of Virginia Woolf as well as the over 40 other films she starred in. Taylor was married 8 times, including twice to Richard Burton, who she later declared was the love of her life. In her coffin was the last ever love letter he sent to her before his unexpected death in 1984.
I'm not sure why I put off trying this fragrance until just now. I knew it had gotten a lot of mixed reviews but that can mean that it's a great perfume. When I read a review online comparing it to Chanel No.5 and White Linen I felt motivated to give it a whirl.
After trying it I can see why it continues to sell quite well; it's a lovely floral scent with woody – mossy undertones and delivers a lot more for less money than most popular scents. It smells clean, effortless and lighthearted – certainly not the diva/sexy scent that I had expected. It's definitely an every day type of scent and lasts for hours. Delicate but tenacious sums it up; No more than two spritzes are necessary.  You'll probably be tempted to spray more since it smells that good – on the cleavage perhaps, in honor of Elizabeth Taylor's impressive one.
White Diamonds starts out with a burst of aldehydes before giving way to an intoxicating blend of Egyptian tuberose, Turkish rose, orris, narcissus and jasmine. There's a slightly musky quality present early on as well that seems to tame the white flowers. The base is a subtle warm and earthy  mix of Italian sandalwood, patchouli and oakmoss.
I don't get the connection with Chanel No.5 or White Linen apart from the fact they're all aldehydic floral masterpieces that you'll either love or hate.
.
SaveSave
SaveSave