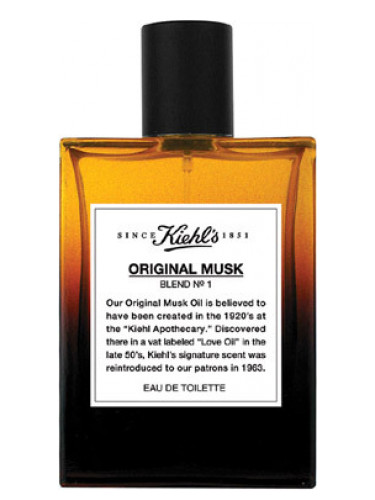 I'm guessing you've already tried or at least heard of Original Musk Blend No.1 by Kiehl's. It's been a perennial player in the gang of musk themed scents and deserves at least a runner-up in the category.
According to the bottle's printed label: "Our original Musk Oil is believed to have been created in the 1920's at the Kiehl's Apothecary. Discovered there in a vat labeled "Love Oil"in the late 50's, Kiehl's signature scent was reintroduced to our patrons in 1963." It does seem a little odd that Kiehl's is so cryptic about the fragrance's origins, but whatever.
As all lovers of fragrances already know, musk is a common scent used in fragrance. Its popularity is in part because it can be used either on its own or as an inimitable fixative. It can be found in almost everything you can spray on your skin from Chanel No.5 to Axe body wash.
For many years, musk was processed from an animal secretion from a sack in front of a musk deer's penis. Pure musk was known to have smelled putrid – think urine – until fermenting it in alcohol for many months produced a distinctive warm and sensual aroma. This led to immensely popular appeal of its aroma until  the Convention on International Trade in Endangered Species of Wild Fauna and Flora (CITES) stepped in and ended the use of natural musk in perfume in 1973 due to concerns about sustainability of the musk deer species.
However, even long before the CITES agreement, the search for synthetic replacements had been underway because of the sky-high cost and rarity of natural musk. perfumers had tried to recreate its natural replacement. The complex odor profile and effect proved to be quite difficult to duplicate in a label.
It's my understanding that scientists still haven't been able to recreate the perfect copy of the musk molecule, known as muscone, and now reply mostly on synthetic replacements such as galaxolide.
According to the Kiehl's website, Original Musk no.1 contains: creamy, fresh citrus burst of bergamot nectar and orange blossom, followed by rose, ylang-ylang and neroli, and finishing with an oriental base of tonka nut, white patchouli "and, of course, musk".
So what's my take on Original No.1?
First off, I haven't smelled the real "original" version which I've heard is more musk-centric. The spray  smells a lot more floral and soapy than straight-to-the-point musky and it's definitely a very clean scent. I love the floral notes especially the rose and the toasty richness of the dry down. I probably won't ever wear it alone but it's of of my new favorites for layering with other scents. I totally get why it has loyal fans.
Original Musk Blend No.1 is a great bang for the buck and smells very unisex despite my floral and soapy mention.