Tilly doesn't just whisper summer, it practically commands you to hit the beach. I close my eyes and imagine a decadent at a sun-kissed day at the beach listening to the waves crashing around me and the noise of screeching seagulls overhead.
This warm, sensual and delicate perfume contains notes of grapefruit, coconut, pineapple and a hint of sea spray.  It's a fun fragrance that reminds me of a perfect summer cocktail sans alcohol. If a tropical vacay isn't in the plans anytime soon, a spritz of Tilly will escort you to an island paradise.
Too many summery fragrances seem to fail miserably and end up smelling like a really bad rendition of Coppertone. Tilly reminds me of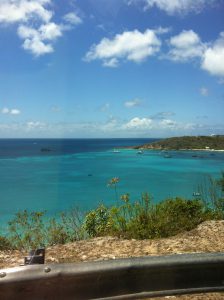 coconut at its finest, without the harsh unnatural chemical aromas that often accompany so-called tropical scents .
Tilly projects a scent that is very simple, fun and clean-smelling. It's sold as an eau de perfume spray as well as a perfume oil. Personally I prefer the oil. A 5 ml bottle of perfume oil sells for $39 and can be easily tossed into your bag before heading off to the beach – or imagining that you are.
Rosie Jane uses no parabens, sulfates, phthalates and is totally cruelty free. The company was founded in 2012 by celebrity makeup artist Rosie Jane Johnston, who has worked with Sophia Coppola and Courteney Cox among others. Tilly was named after Matilda, the second of her three  children, and is based on childhood memories growing up on the beaches of Sydney, Australia.
Hand crafted in small batch runs, the brand's products are hand filled in Los Angeles CA, where she and her family reside.
States Johnston: "The time I feel most beautiful is after a day at the beach when I have no makeup on, wearing a sarong and a sun kissed glow. Rosie Jane is about feeling that confidence all of the time." (Fragrantica)
The Rosie Jane collection can be purchased on the By Rosie Jane website, on Amazon or at Anthropologie.com.
SaveSave
SaveSave
SaveSave
SaveSave