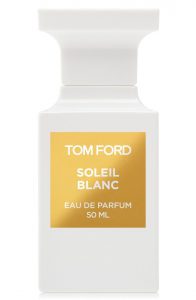 Tom  Ford's Eau de Soleil Blanc  ads have been cropping up everywhere. Now I know many people who are totally obsessed with Tom Ford fragrances but I've never been a huge fan. Oud Wood (definitely not a keeper), Tobacco Vanille AND Vanille Fatale (disliked both equally), Santal Rose (detested), Tuscan Leather (made me gag) and F*Fabulous (EEWW no thanks).  Black Orchid is interesting  but with so many other great options out there I'd kind of crossed Tom Ford off my list until recently.
I'd read a few reviews about Eau de Soleil Blanc and had a tiny kernel of hope that this one might be different. Granted I'd never tried the 2016 Tom Ford Soleil Blanc which might have prevented me from even giving this baby a try if I'd disliked it so I sniffed it with a completely open mind.
My verdict: WOW.  It's actually pretty impressive and a great option for warmer weather. 
From the company website:
Eau de Soleil Blanc embodies a refreshing illumination on Private Blend Soleil Blanc, bright, crisp and drenched with sparkling citrus. The vibrant twist on the floral amber warmth mirrors the crystalline reflection of the white sun, a sensuous gleam of sky on water.
An initial spray of Eau de Soleil Blanc brings an enormous burst of citrus with the highlights being an herbaceous bergamot and slightly tart bitter orange peel. The citrus is fleeting and can barely be detected after a couple of hours. Soon you begin to smell spicy cardamom and pistachio notes which bring a sweet and nutty quality. There's definitely a strong presence of neroli which smells very refreshing and sparkling, with honeyed nuances, as well as hints of jasmine and tuberose. The best twist in this juice is a lovely mix of ylang-ylang, Coco de Mer accord (a rare coconut), amber and vanilla which will stay with you for six plus hours after applying.
Eau de Soleil Blanc smells beachy but without the suntan oil vibe. It's an uplifting scent, very light, bright and energizing.
A 50 ml bottle is $122 and can be found at most department stores and Sephora.