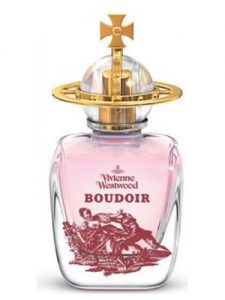 Boudoir by edgy British fashion designer Vivienne Westwood is a chypre floral perfume which  made its debut  in 1998. It's a force to be reckoned with – one sexy, theatrical seductress with attitude. I'd describe Boudoir by Vivienne Westwood as a voluptuous bombshell kind of scent that evokes old Hollywood glamour, a la Marilyn Monroe or Marilyn Dietrich. Boudoir is the perfect name – an homage to every woman's sacred and intimate space.
Despite this being Westwood's first perfume it is considered by some to be her finest, although it has been reformulated. Her newest collection was inspired by Alice in Wonderland and consists of the following editions: Naughty Alice (2010), Cheeky Alice (2011), Flirty Alice (2013) and Sunny Alice (2014).
When I smell Boudoir here's what I imagine: a provocative femme fatale wearing nothing but sky-high stilettos, racy lingerie (definitely a pearl thong) and a lascivious pout. I see her silky hair splayed around her pillow and and she's lying on red satin sheets while she dims the lights slightly. Now she's sitting up and slowly taking off her bra and panties and tossing them to the floor while telling her man exactly what she plans to do to him. No is NOT an option. Hours later, the room is filled with the lingering scent of dried sweat, racing pheromones a sweet memory, a freshly opened pack of cigarettes on the nightstand and the faint whisper of a floral bouquet just pass its peak of freshness sitting on her dresser.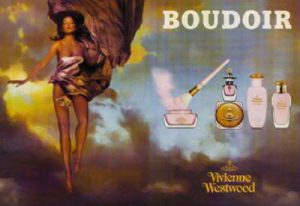 Boudoir is a fragrance that spanks you when someone wearing it passes by and forces you to come along for a wild ride. It was designed by perfumer Martin Gras with the intention to create a fragrance that would make all men turn their heads after the woman who wears it when the smell wafts past them.
The notes that hit you first are fresh bergamot, hyacinth, sweet orange blossom and sharp aldehydes (think Chanel No. 5). Gradually jasmine, rose, narcissus enter in, along with carnation, orris root, cardamom and coriander. The base brings patchouli, warm and milky sandalwood, tobacco leaves, cinnamon and powdery soft vanilla. Thank you Fragrantica because I could only pick out some of these – carnation, rose, tobacco, sandalwood and vanilla. The carnation and tobacco are very present and the tobacco is a fresh, unburnt type of aroma.
I see Boudoir as best appreciated by the bold woman or man who's not afraid to use their power to charm and seduce. Putting aside the pink juice inside the ultra-feminine bottle, I could easily see a guy who loves musky, spicy fragrances really rocking this scent.
Boudoir isn't for everyone and  you have to be in mood for something dramatic and demanding. It's not mainstream and it could even be called an oddball scent that forces you to use your imagination.
I love the little bottle with its churchy crown cap and divaesque gold lettering.