A friend recently asked me for a perfume recommendation. She wasn't able to offer much in the way of information except that most fragrances were way too strong for her and she loved Kai perfume oil. The first fragrance that came to mind was Child perfume by Susan D. Owens. It also comes in an oil and is to this day one of my go-to scents when I'm craving an understated, playful perfume.
I discovered this little gem several years ago when I was scent browsing on beautyhabit.com. California-based Beautyhabit is sort of the anti-Sephora and tends to stock mostly niche brands for those "in the know", such as Lurk, Diptyque, Memo Paris and Altaia.
I was looking specifically for perfume oils because they are so great for traveling and I also love the way perfume oils stay close to my skin rather than invade the room. I'd been addicted to Kai for ages and I wanted to find a new scent to switch things up. Since I was almost out of my Kai rollerball, I placed an order for Kai and also ordered a sample of Child.
As soon as the package arrived, I opened the small vial of Child and put a dab on both wrists. I remember that EauMG feeling of excitement which I've only had for a handful of perfumes. This was without a doubt, one of the prettiest white florals I'd ever tried!
There's definitely an innocent quality to Child, as the name would suggest, but it also manages to smell alluring and sensuous. There's something vixen-like to Child that I can't quite put my finger on.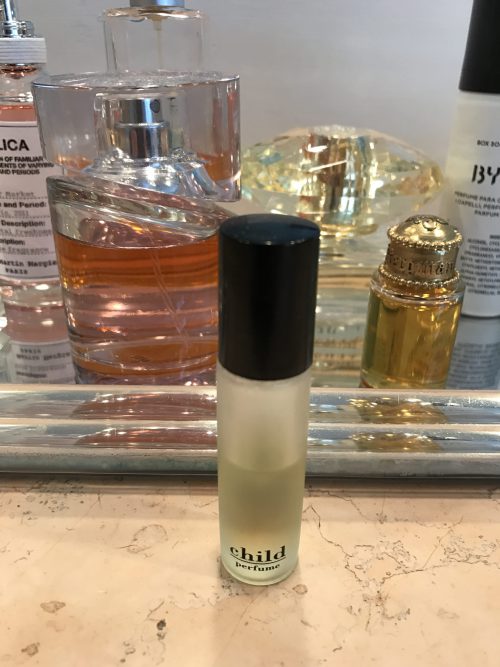 My first impression was of a heady tuberose and lovely jasmine. Not just any jasmine; this is Hawaiian wedding flower Pikake variety, the traditional blossoms used for making Leis in Hawaii. I detected some freshness but never any sharpness in the top notes. About an hour later, I started sensing some magnolia and violet entering into the equation, bringing a bright majesty with them. After I'd been wearing it for a couple of hours, it started smelling softer and creamier. I started smelling faint vanilla as well as a gentle white musk.
If you aren't too into big white floral scents you might be scratching your head. If you happen to be a card-holding member of the Big White Floral Club like me, this is definitely a fragrance you'll be happy to try and later buy.
I recently read that Child is the #1 best-selling perfume at Beautyhabit and I'm not surprised. Madonna loves it, Jennifer Aniston has been known to buy 10 bottles at a time, Lindsay Lohan is a known hoarder of it and Britney Spears has called it one of her favorite perfumes. But it wasn't until after Jenny Garth told InStyle magazine in 2000 that Child perfume "drives men wild" that it became even more sought-after.
Child smells to me like the quintessential California Boho-chic fragrance. Curious to learn its backstory, I did some digging. Susan D. Owens is a woman who's life has taken some surprising turns.
Before launching Child in 1990, her resume included work as a model, comic book star, nurse, stripper and Playboy centerfold. It was only her Playboy bunny phase that she later regretted.
"You can't shake the big bunny, once you mention it," she was quoted as saying to a Dallas News reporter.
In 1998, a friend took Owens to a perfume distributor for fun. She bought a few pounds of two ingredients and took them home to experiment. She poured them in equal measure into a small container on her coffee table and…
Voila, Child was born!
Owns started wearing her new scent around town and discovered that people loved it. She began bottling small batches in her home and sold her first small order in 1989. Although she had a loyal customer base from the start, it wasn't until Jennie Garth gave Child the big thumbs up to InStyle magazine in 2000 when Child began to soar in popularity.
I personally love knowing the story behind a fragrance. So many fragrances have the big name houses behind them and that includes the hundreds of celebrity labeled fragrances out there. The fact that this woman was able to create a fragrance totally on her own only makes me appreciate Child that much more. The world needs more female entrepreneur perfumers like her. And I love that she didn't even have to run an expensive marketing campaign to get the word out there; the celebs did it for her.
When asked about why she named her perfume Child, she replied, "Because perfume always takes you to the past, and what better memory is there than being a child?"
Each bottle of Child perfume is still handcrafted and poured by Susan herself in her garage workshop in Dallas, TX. A 1/3 oz. bottle sells for $68 and a 1 oz. bottle is $98.
Have you tried Child yet? If you like it share the love here. If not, why not?