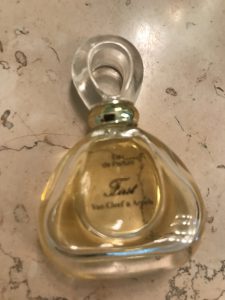 Launched in 1976, First by Van Cleef & Arpels has been around for a long time for good reason. It's just that unbelievably good if you can appreciate a huge floral bouquet in its full blown aldehydic glory. First isn't for everyone but if you are a lover of Chanel No.5 and/or Estee Lauder White Linen you will most likely be a huge fan.
I just re-visited First to see if it would provoke the same reaction it had years ago when I discovered it. You see, my nose has been around the block a few times since then and I was expecting First to have less than the seismic impact I recalled it as having. It would have been sad to have my nostalgic memories shattered, which was entirely possible with all of the necessary reformulations which must have occurred over the years. What do you know – it was still like KABOOOOOM! KERBLAM! This is true goddess material.
First makes its sparkly grand entrance with opening notes of Aldehydes, Mandarin, Black Currant, Peach, Raspberry and Bergamot. Quickly follow heart notes of Carnation, Turkish Rose, Narcissus, Muguet, Jasmine, Orchid, Tuberose, Ylang-Ylang, Lily and Orris. The base is a lovely mix of Amber, Tonka, Vanilla, Oakmoss, Sandalwood, Vetiver, Musk, Honey, Civet and Castoreum. The soapy, fizzy aldehydes and slightly animalic quality from the Civet and Castoreum makes First interesting and so much more than just another big, loud floral.
First is like a kaleidoscope on your skin; a well-orchestrated symphony of a perfume where every note plays perfectly.
I remember hearing a while ago that Van Cleef & Arpels was the first jewelry company to launch a fragrance. The nose was none other than Jean Claude Ellena and it is considered his first great creation.
I'd love to one day wear First while adorned in Van Cleef & Arpels jewels. This would give new meaning to the concept of layering, don't you agree?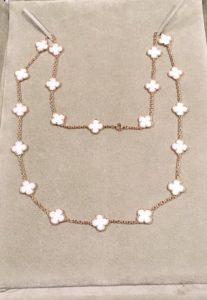 SaveSave
SaveSave
SaveSave
SaveSave
SaveSave