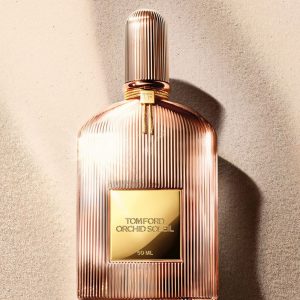 If you happened to catch my review of Tom Ford's Black Orchid you'll know that it wasn't quite my cup of tea. I think I may have actually said that it reminded me of something that an expensive hooker might wear. Well I'm happy to report that I just finally tried its flanker and I'm very excited. Orchid Soleil by Tom Ford is absolutely awesome and I'm a huge fan. Thank you Mr. Ford for getting it right this time!
Whereas Black Orchid, which launched in 2006, is something of a vamp perfume, Orchid Soleil (2016) was reported to be a "summer" version of Black Orchid. It was released as part of Tom Ford's Signature Collection, which is more affordable than his Private Blend scents. Think $120 for a 50 ml. bottle versus $230 and up for the Private Blend perfumes.
It's described on their website:
Introducing the solar side of the elusive TOM FORD orchid. A radiant and sensual force of nature, the new scent captures the seductive warmth and reflective bare skin of the TOM FORD woman. 
I had already decided that I could never be a "Tom Ford woman" but after smelling this maybe I need to rethink that.
Like all Tom Ford perfume bottles, the Orchid Soleil bottle is definitely eye candy. I'm obsessed with the classic art-deco inspired lines and the stunning rose-gold color.
The notes, according to Fragrantica, are:
Top: Pink Pepper, Bitter Orange, Cypress
Middle: Red Lily, Tuberose
Base: Vanilla, Patchouli, Chestnut, Whipped Cream, Orchid
I definitely get the bitter orange, tuberose, patchouli and vanilla – especially the lovely tuberose. Not so much the others; in fact the chestnut is nonexistent to my nose. There's also a curiously metallic note early on which was unexpected though not entirely unpleasant.? I first thought that my nose was playing tricks on me but on second spritz there it was again. Definitely not a deal-breaker though and it fades quickly.
I would have to describe Orchid Soleil as summery scent, though not so much reminding me of the beach as much as sun-kissed skin and hot, sultry nights. It's a perfect mix of bold, bright and zesty with a delicious creaminess.
If you're a Tom Ford perfume fan, you really need to try this one!
Great Sale on Gift Sets at FragranceNet.com. Up to 70% Off Retail Plus Free Shipping Over $59!