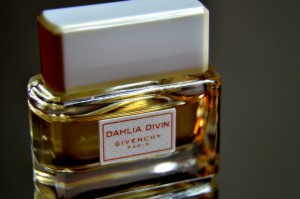 Givenchy perfumes are each created to convey a different mood and attitude. Dahlia Divin presents herself as a smoldering goddess unleashing her powers on us mere mortals. The effect is timeless and ethereal, delicate yet strong in a way that seems too perfect for this world.
According to Givenchy, Dahlia Divin "lets you embrace your inner Golden Goddess". It also "inspires us to want to be better, reach new heights and live life to the fullest." What woman doesn't want to live life to the fullest while in touch with her inner goddess? It sounds mighty good to me.
"I created a delicate and delightful scent, balancing colored and juicy notes, slightly reminiscent of childhood. Then I gave the fragrance more of a solar quality, to create a trail worthy of this radiant, remarkable muse" says Francois Demachy, Master Perfumer.
It opens with lush, sweet top notes of Mirabelle plum. Soon after comes what seems like berry and apricot, leading to middle notes of white flowers and Jasmine. The base notes are Sandalwood, Vetiver and Patchouli. As it dries down it becomes warmer and best resembles a woody floral with oriental leanings.
There is a slight earthiness at the drydown, but overall I'd call this a pretty scent and not overly heavy.
This can be worn year-round but I think of it as best during the cooler months since it has a rich, heavy and slightly dark vibe.
The face of the perfume is American R & B singer Alicia Keyes. A 2.5 oz. bottle sells for around $61.00 on Amazon.