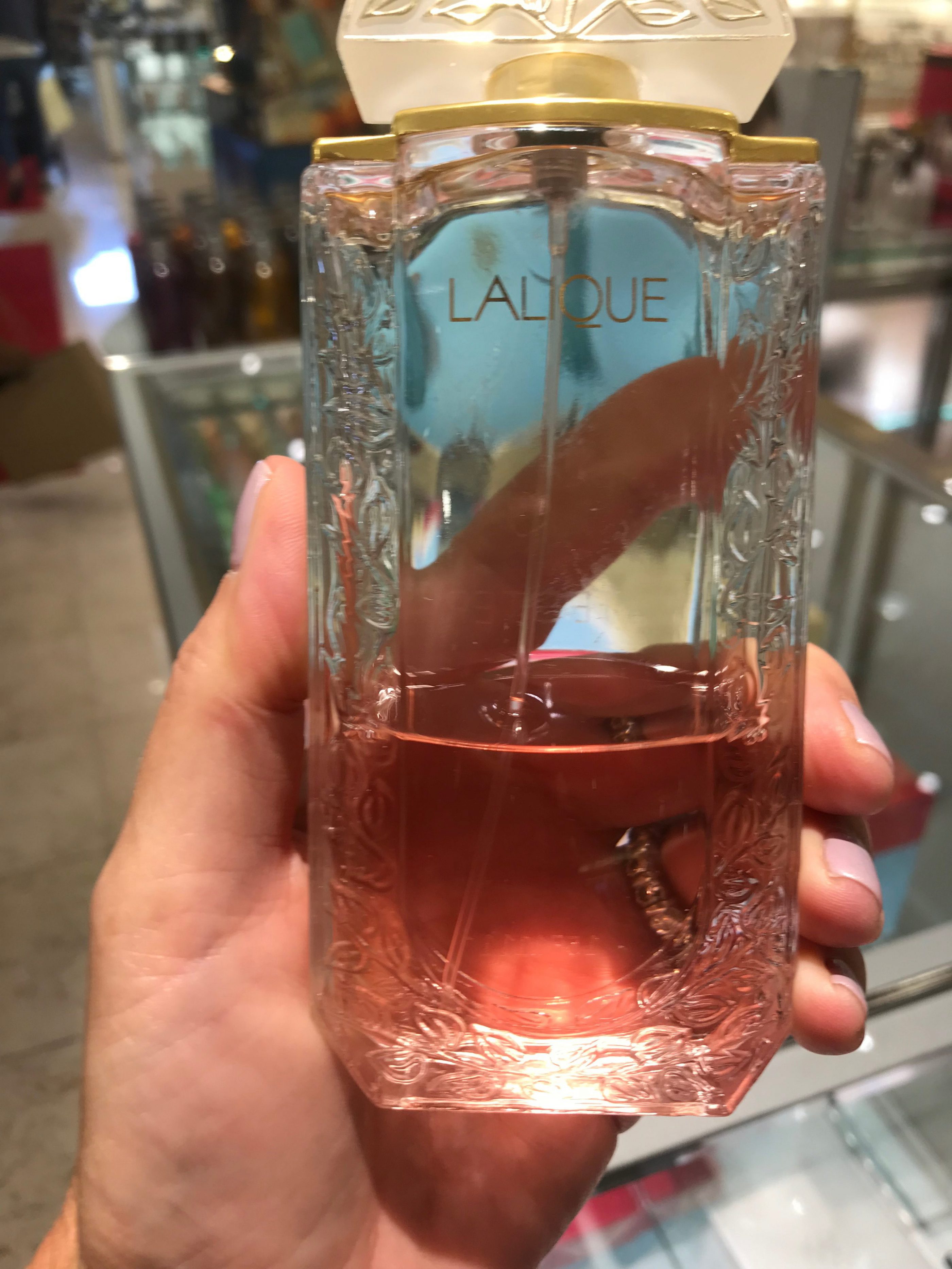 For whatever reason Lalique perfumes have been off my radar until recently. This past week-end I found myself in the perfume department of Neiman Marcus and fell wildly in love with Lalique for Women, which I was informed by the sales associate was Lalique's original fragrance. I was initially drawn to this one due to the gorgeous Art Deco white crystal glass bottle with a delicate fan shaped stopper which (oops) is only half shown here.
This is a fantastic fragrance, subtly soft and powdery, but not in a barely there sort of way because it's definitely there. It's a big, beautiful and shameless floral meant to be worn with pride and conviction.
At first sniff I was seductively greeted by an intoxicating blend of rose, gardenia and iris notes.  Soon after came the fragrant rush of delicious blackberry, cassis and pear notes which almost smelled like a fruity wine. Sandalwood and vanilla did a brilliant little dance at the dry down along with white musk which added warmth. All I can say is the more the merrier because each added note increased the richness of the composition without ever becoming overbearing.
About an hour after spritzing it I noticed that it had become a soft and mellow skin scent. 
I can't figure out why this perfume seems to have so many haters. Ordinary, screechy and soapy it most definitely is NOT. Lalique for Women is definitely like a slice of paradise in a bottle bringing to mind lush gardens in a tropical paradise.
Seriously, ever since trying this yesterday my inner perfume demon has been telling me that I need to buy this NOW. It's been awhile since this has happened and it's a little weird and disconcerting although not exactly unpleasant.
Another reason to love this goes back to the beautiful bottle and Lalique's important role in shaping modern perfume bottle design. Thirsty to learn more about Lalique since I've become obsessed with this perfume, I learned that René Lalique, who started out working in jewelry design, created his first perfume bottles at the end of the nineteenth century. He became one of the leading exponents of the Art Nouveau movement and was awarded the Legion of Honor in 1897. In 1905, he opened his first shop in Paris, where he was later joined by by François Coty who had opened a shop next door. Coty had commissioned Baccarat to create his bottles asked Lalique to design a label. The first Lalique label was applied to a Baccarat bottle but it didn't take long before the master of Art Nouveau to design a bottle to go with the label as well as a box to put it in. In doing so, Lalique created contemporary perfume packaging with the creation of L'Effluert in 1908. (Source: The Essence of Perfume by Roja Dove).
It's no wonder that the Lalique perfume bottles continue to be among the most sought after by  perfume bottle collectors today.