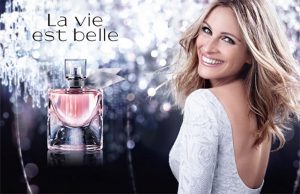 Launched in 2012, La vie est Belle by Lancome markets its popular fragrance on the concept of a simple, natural beauty. It is said to capture the essence of freedom from social conventions and the choice to create one's own path to happiness. La vie est Belle was designed for the charismatic woman who radiates that indefinable "je ne sais qui". A woman who lives life to the fullest, filled with gratitude, honesty and love.
French for "life is beautiful", Lancome's new fragrance is said to be a scent of joyful femininity that makes the world a more beautiful place.
On their website Lancome states: "La vie est Belle introduces a new olfactive story, the first ever iris gourmand. The juice is made with the most precious natural ingredients, a modern interpretation of an oriental fragrance with a twist of gourmand. It intertwines on elegance of iris with the strength of Patchouli and the sweetness of a gourmand blend; for an incredible scent with depth and complexity." I'm not sure who wrote that product description, but if La vie est Belle is the first iris gourmand then I'm Julia Roberts 🙂 What about Guerlain's Iris Ganache or Il Profumo"s Nuda that were widely distributed before this came out? Just saying.
Before I tried this perfume I was convinced I'd dislike it. I am not someone who usually likes gourmand perfume and when it comes to food I'm more a salty and savory  than sweet person. I wanted to like it and  but suspected it would be far too sweet for my taste. However, being that iris was the backbone of the scent I knew there was a chance.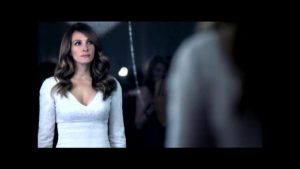 I actually really liked it. It kind of reminded me of years ago waiting for a blind date to pick me up and expecting a totally loser and when I opened the door there was this gorgeous guy standing on my doorstep.
There is big blast of fruitiness at the opening of black current and pear, followed by orange blossom, iris and jasmine, which gradually fades into the base of tonka bean, patchouli and vanilla. It  gradually warms to a pretty, sexy, comforting scent that is powdery and not too terribly sweet. There's something unique about uplifting about all of these different notes combining into a harmonious whole.
Personally I would only wear this in the cooler weather due to the fact that it's pretty strong.  It kind of reminds me of a Christmas party filled with praline and vanilla cookies. The longevity is great and lasts all day and through the night.
A 1.7 oz. bottle costs around $70.00. It's widely available at Lancome counters and on Amazon.