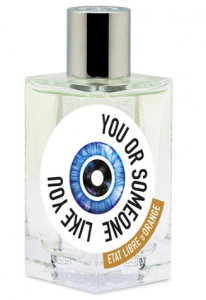 The newest release from Etat Libre d'Orange was created in collaboration with author and perfume critic Chandler Burr.  Burr is probably best known for his fragrance books The Emperor of Scent (2003) and The Perfect Scent: A Year Inside the Perfume Industry in New York and Paris (2008) as well as his perfume reviews for the New York Times (2006-2010).  You or Someone like You (2009) is named after his first novel which takes place in the Hollywood Hills of Los Angeles, CA.
This isn't a scent about the city of Los Angeles, however; it's intended to evoke a scent that the female protagonist in the novel, named Anne, might wear. Anne is very English, loves gardening and books and is removed from the powerful, flashy world of her movie studio executive husband, Howard. In creating the scent, Chandler Burr worked closely with perfumer Caroline Sabas through trials and revisions until they eventually arrived at the finished product for the fictional Anne.
States Burr: "The scent is very specific. When Etienne de Swardt approached me about creative directing a fragrance whose name would be the title of my novel, I told my perfumer, Caroline Sabas, that we were creating the fragrance Anne would wear. She is very specific. Cooly crisply English, covered in but untouched by the silver, materialistic movie industry, somewhat removed."
Of the notes used to create the fragrance, Burr is less than forthcoming: "The raw materials are completely irrelevant. The work is the work. If you need to know what it's made of, don't wear it. You is not for you."
As someone who often reads listed notes of a fragrance before trying a perfume, I approached my first sniff of You or Someone Like You with a completely open mind. Closing my eyes and taking a deep whiff, I was surprised to find that it reminded me of something that I couldn't quite put my finger on. There was a very pleasant earthy quality mixed with what smelled like rose and a delicious mint. After wearing it for about an hour, the rose note kind of faded into very faint white floral notes with the mint still featured prominently and vivaciously. About six hours later, the scent had practically disappeared except for the mint.
Although the muse for You was Anne, I could easily see a guy wearing this scent.