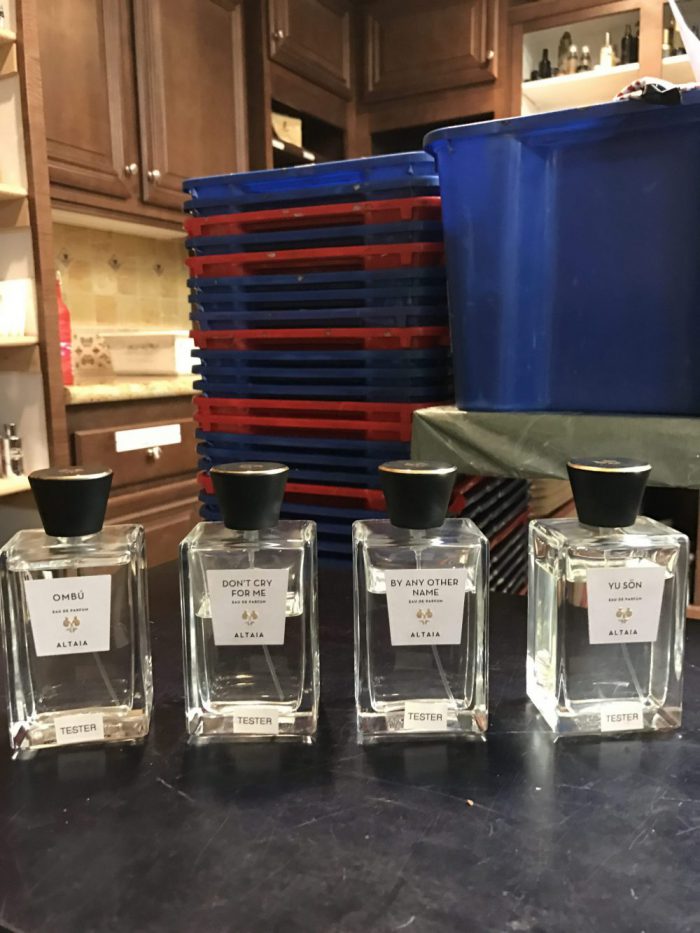 Have you ever stumbled upon something that you love so much that you know you have to have it…only to look at the price tag and feel your heart sink? Well that happened to me recently and I have to tell you I'm still obsessing over Don't Cry for Me by ALTAIA.
If I ever win the lottery this would definitely be on my short list. It is a hauntingly lovely floral woody musk fragrance.
Lucky me to have happened upon it at a recent visit to the niche perfume boutique Beautyhabit in Westlake Village, CA.  Beautyhabit is actually a perfume warehouse which houses a walk-in boutique in the back of the building. I've known about Beautyhabit for a while since they are one of the only places that carry my beloved fragrance, Child by Susan D. Owens, and I've placed several orders through their online business.
Sam, one of their employees working in the back room, gave me free reign to sample to my heart's content from among their many (hundreds if not thousands) of bottles. She encouraged me to sniff away as long as I wanted.
I had heard about the relatively new niche line ALTAIA, an acronym for "A Long time Ago in Argentina". The company was created by Sebastian Alvarez Murena and Marina Sersale,  who fell in love in Italy and got married. They both were passionate about fragrance and the power of storytelling through scent, and together formed Eau d'Italie, an exclusive line of fragrances inspired by Positano and their favorite places throughout Italy.
In 2012, they decided to produce their second love child, ALTAIA.
ALTAIA was created after the two discovered that their families had been connected 140 years before they met in 2001. Their great-great-grandfathers, one an Englishman and the other an Argentinian, had worked together in Argentina in the 1860s.  ALTAIA was inspired by a loving fusion of their past and present.
Sebastian, who was born in Argentina but left at a young age had lingering memories of his motherland, which seemed to whisper words of longing to him. Don't Cry for Me was inspired by these memories and has a nostalgic, dreamlike quality to it.
A soft and airy jasmine meets with freesia and sweet cherry blossom. A powdery heliotrope  and soft musk combine with gentle woody notes in the dry down.
I'm inhaling (OK practically snorting) the small sample I left with as I write this and there's no doubt that I could become truly addicted if I had more of the stuff around.
It's that irrestistible… Sadly, my little vial is almost empty:(
A 100ml bottle costs $210 (Sigh)
I did manage to leave Beautyhabit that day with James by Rosie Jane which is a totally different type of scent but very lovely too.
If you've been fortunate enough to have experienced Don't Cry For Me please feel free to chime in your thoughts.