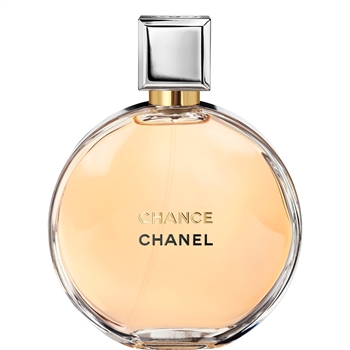 If you are a die-hard Chanel fan, I'm sure you've already tried Chance, which was released in 2002. Chance means "luck" in French and it was created by perfumer Jacques Polge. Chance is the first perfume by Chanel that is housed in a round bottle as opposed to the classic rectangular bottle of Chanel No.5. The circular design is meant to represent the wheel of fortune and opportunity, according to the Chanel website.
I think it's safe to assume that Chance was created for a young clientele. Nothing too nuanced or complex here; Chance casts a light, playful and optimistic vibe. I could easily see it worn by a young girl eagerly spritzing it on just before her very first date. It reminds me a little of Princess by Vera Wang which also seems easiest to imagine on the not-yet-legal crowd.
Chance plays by all the rules of a girly fragrance. It's clean, faintly floral and not over-powering in the least. If you are looking for a "safe", understated scent that is unlikely to offend anyone you might find this your go-to signature scent.
Chance features notes of pink pepper, pineapple, hyacinth, jasmine, patchouli, citrus, vanilla and white musk. Be prepared for the spicy  peppery opening which dies down quickly. The pineapple note is not overly fruity and seems almost earthy if that's possible, or perhaps I'm smelling something else. I really don't notice the jasmine much at all and the patchouli is very discreet.
The Chanel website, states: "Unpredictable, in perpetual movement, CHANCE sweeps you into its whirlwind of happiness and fantasy. An olfactory encounter with chance."
Like all of the Chanel perfumes, the sillage is impressive. A 3.4 oz. bottle costs around $130.
Two other Chanel fragrances, Chance Eau Fraiche and Eau Tendre, take off in different directions than the original Chance. Eau Fraiche is a lemony,  lighter and aquatic rendition and Eau Tendre offers up a more powdery version with a delicious grapefruit note that adds a tangy sweetness.