Hello, my social distancing, hand washing, perfume loving friends out there! Are we all going slightly crazy? I've sometimes thought that I'm glad I can't see into the future and that's certainly the case now.
Wherever we are in the world, whatever our individual situations, we are all going through this mayhem together. As we all navigate these uncharted waters we are finding our own ways to get through it.
My small town in California hasn't yet been hit with the full force virus exposure (supposedly, though who knows since there hasn't been much testing done). Most people are carefully following recommended safety protocols from what I've heard and seen. But we are all stressed out on various levels. There is no end in sight. I've been hearing that while most crimes are down domestic violence is up. Well duh, no explanation needed for that.
Regardless of our circumstances we need to try and put as many healthy little practices into our cocooned lives as we can. Whatever habits that make us feel grounded and more hopeful during what has become our new normal.
If you're reading this you already know how powerful scent is, and you probably have at least a couple of fragrances you find calming and transporting. If you have any that remind you of a favorite vacation or a person who is dear to you you'll be surprised at how it can make you feel so much better .
DON'T BE MONOGAMOUS
I see no benefit in sticking to my top few perfumes right now. The more the merrier! It'll make your day more interesting to delve more deeply into those who've been sitting on the shelves and waiting for a second chance. What exactly was it about them that turned you off?  Could it have been you not them?
FEEL FREE TO PLAY
People have different opinions about layering fragrance and I get it. I happen to be a huge advocate of the practice as you probably know if you've read other posts here. Whether it be layering a fragrance over a scented moisturizer or spritzing on two or more different perfumes, it's fun to mix and match. Don't forget to remember the combination though or you'll regret it.
REACH FOR THE LARGE AND IN CHARGE ONES
Bring on Fracas or Shalimar any other big guns in your arsenal! You can't help but feel more empowered and fearless. Plus you'll be sure to get some sort of reaction from your fellow housemates who are also stressed-out and need something to divert them from their smartphone and hourly new updates.  Whether their reaction is good or bad really doesn't matter, at least they'll be getting a diversion.
DITCH THE SANITIZERS FOR GREAT SMELLING COLOGNES
As soon as the sh*t hit the fan everyone ran out and bought as much of this stuff as they could get their hands on. The few sites like Amazon and eBay are charging ridiculous amounts. Plus with the crazy fake advertising surge and price gauging going on there's no guarantee you'll be getting even what you over-paid for.
There are a number of pleasant smelling colognes that contain enough alcohol to blast any germ that comes close. My current go-to is Jean Naté. Its fresh and citrusy aroma is way better than any antiseptic-smelling hand sanitizer. Its also enriched with Vitamin E and aloe vera so it doesn't dry out your hands the way Purell does.
MAKE YOUR HOME YOUR SANCTUARY
If there's one thing we know for sure it's that we're all going to be spending A LOT of time at home. And if it already seems like the end of a very long Christmas break, the fact is that none of us know how much longer we we'll be holed up. Fear, captivity and too much togetherness can make this seem more like a prison sentence than a staycation but there are ways to make it more bearable.
Candles to the rescue! Long known for their soothing, healing properties candles will help create a peaceful ambiance for any room in the house. My candle collection includes statement pedestal candles to small votives and everything in between.
Many people find the sounds of nature to be relaxing. We're currently living in a hundred year- old home with virtually no closets which isn't ideal obviously. However, it does have a pretty back patio with a water fountain. When I say I've had it turned on most days from dawn to dusk while sequestered at home I'm not exaggerating. There's just something so calming and relaxing about the sound of running water.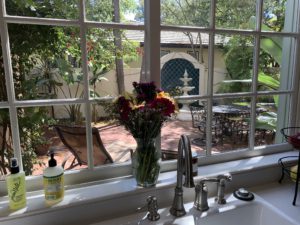 Remember that most of us WILL get through these crazy times. Let's all try to look for something positive in every day…even if some days you have to look a little harder.
Until the next time,