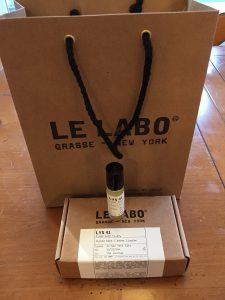 There seem to be quite a number of  perfumistas  who take issue with French perfumery Le Labo. Whether it's their unusual naming system, with the name of the most prominent ingredient followed by the number of ingredients, or the About Us on their website  (I actually like their "Manifesto"), there are many out there who think the brand tries a little too hard to be hip. While I get that, I think that they have created a number of top notch scents that are interesting and highly wearable, unlike some other niche perfume brands.
Fabrice Penot, co-founder of Le Labo, believes that the typical experience of trying new scents is similar to speed dating. In an article for The Huffington Post, he says: "It's like you meet a guy and for the first 15 minutes he's perfect. But after a week, the guy has no substance; there is nothing." According to Penot, many of the brand-name fragrances fall short on delivering a long-lasting, high quality experience. He attributes this to the fact that many popular brand name fragrances have explosive top notes which seduce us right away but leave us with very little once this has worn off. Just like that hypothetical guy.
Fabrice and his business partner, Eddie Roschi, started Le Labo in 2006 with a mission to revolutionize a saturated commercial perfume market.
I've visited Le Labo boutiques in Venice, CA and Elizabeth Street, NYC and it is a totally different experience than visiting a Sephora or department store. Small bottles line the dimly lit store and the potions are prepared and bottled right in front of you. The staff is gracious and helpful in making suggestions. If you make a purchase, they allow you to personalize the bottle with a name of your choosing.
In the case of Lys 41, I knew that there was going to be lily somewhere in there since lis is french for lily. There is a heavy dose of lily in the top notes along with lily's large and in charge sisters,  jasmine and tuberose. It is a bold and beautiful white floral opening, breathtaking in its light and joyous disposition. Not surprisingly, tuberose eventually takes center stage as she is known to do. As the top notes fade, it turns into a pale woods and light musk scent until eventually settling into a warm and cozy vanilla. Not the kind of vanilla that makes you think of food, but a comforting, Madagascar vanilla.
This fragrance was released in 2013 and was created by one of Le Labo's iconic noses, perfumer Daphne Bugey. She also created the noteworthy Bergamote 22.
I just discovered Lys 41 last month at Le Labo at Elizabeth Street in NYC and it was instant love.  I ended up buying it in the 7.5 ml liquid balm which I've named "The Journey". It's just the kind of warm and cheerful fragrance I've been looking for and is now tied with Child perfume oil as my go-to when I need a pick-me-up.
Lys 41 is available in Le Labo boutiques and on their website (https://www.lelabofragrances.com). Some department stores such as Nodstroms also carry the Le Labo line of fragrances. A 1.7 fl.oz. bottles is $175, 3.4 fl.oz. bottle is $260 and a 7.5 ml. bottle is $90.