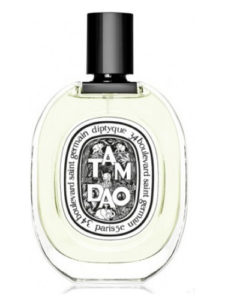 Sandalwood-heavy perfumes are not really my thing. I've given a number of them a try in the hopes of finding "the one" but sandalwood scents are tricky for me. Too often they have a harsh, rocky opening as I mentioned in my review of Le Labo Santal 33 or leave you smelling like Pine-Sol.   
I might have missed out on trying Tam Dao had I not come across a bag of samples provided by Diptyque at a fragrance event in NYC earlier this year. I'm currently in purge mode due to getting ready to move. Necessity has forced me to methodically go through my huge collection of samples and decide which ones to ditch. It's not easy but getting rid of some of the truly hideous ones has been therapeutic.
It's not that I'm a hoarder. I'm the first to throw out or donate clothing I no longer wear. I view perfume samples as itty-bitty gifts with the potential to delight. And who doesn't love cheap – and in most cases free – thrills?
I was really hoping I'd love this despite my sandalwood history since I'm a huge fan of the brand Diptyque. They've been around for 50 years and continue to put out unique and high-quality scents. Their pricing is moderate compared to most niche brands out there and I love their minimalistic art deco packaging.
Tam Dao comes in EDT and EDP and I've heard they smell quite different, with the EDT being the more masculine. My sample is the EDP.
Here are my findings:
My initial whiff of Tam Dao was a frontal assault of Iso-E Super. I'm talking obnoxiously loud and sharp like pencil shavings. If you've tried Escentric Molecules 01 you know exactly what I'm talking about. Iso-E Super isn't known for sticking around for too long. This time it was so quick I didn't get the license plate.
Soon after comes a huge hit of cedar and green cypress alongside a subdued sandalwood. It conjures up images of a Buddhist monastery steeped in tradition and meditation. It slowly evolves from something energizing and revitalizing into something smooth and calming. There's also something here that really reminds me of being in a sauna.
I know that some have picked up other notes such as rose, spices, and musk from Tam Dao but I couldn't find them. Maybe it's my nose but if they're there they are totally obscured by the woody notes.
Conclusion:
This is a straightforward and natural scent that would lend itself well to layering. 
The longevity is quite short. This has been my experience with other Diptyque perfumes so no surprise there.
Tam Dao would make a lovely home scent or possibly something I'd potentially wear glamping. I won't be adding it to my perfume wardrobe though.