Crowd pleaser 
Bright Crystal by Versace should be given an award for making the Top Ten screechiest florals of all time.
I recently had the rude awakening of catching a whiff of this popular fragrance from a woman sampling it steps away from me in the Duty Free at JFK. It was so stunningly horrific that it made me realize that scents like Bright Crystal is why some people hate perfume.  It reminded me of AquaNet and the graphic electric eyeliner of the 1980s: very synthetic and tacky.
Since there was something about Bright Crystal that was so astringent to my nose I wanted
to pinpoint what it was. After doing a little research when I returned home I decided that it was most likely the yuzu. This funny-looking seedy fruit may pack a powerful Vitamin C punch but it is also super sour and tart. Yuzu is mainly cultivated in Japan, Korea and China and I learned that it's an exotic citrus that is soon to be on everyone's radar. While it may taste great in a cocktail, it most definitely does not work in here. Unless you want to smell like the olfactory equivalent of Day-Glo or spray paint do not go near this stuff.
The other turnoff, especially in combination with the yuzu, was a very strong and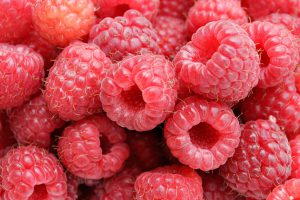 overbearing raspberry note. Some fragrances contain lovely raspberry notes, such as Jo Malone Pomegranate Noir and Bvlgari Pour Femme, but the raspberry here smells almost toxic. I'll pass!
Bright Crystal was first released in 2006 and Versace had the cojones to release an even louder and more obnoxious sister fragrance in 2014 called Bright Crystal Absolu. Their most recent fragrance, Versace Eros Pour Femme came out last year and at least they managed to trade the yuzu for Sicilian lemon.
The best of the Versace fragrances that I've tried is Yellow Diamond, which came out in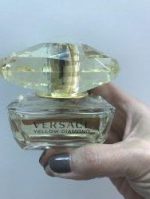 2011. Yellow Diamond smells light, playful and flirty to my nose, unlikely to offend anyone.
See here's the proof that it's still in my fragrance wardrobe!
Yellow Diamond Intense which was released several years later was (you guessed it) obnoxiously intense to the point of inducing migraine-level headaches. It was like they took ingredients which would have worked fine in normal amounts and then super-sized them.
Bright Crystal, like really bad reality TV, seems to show no signs of disappearing. It's a little scary to think of what they'll come up with next. A 1.7 oz. bottle is around $73.
If you've tried Bright Crystal, please weigh in. I'd love to hear what you think.