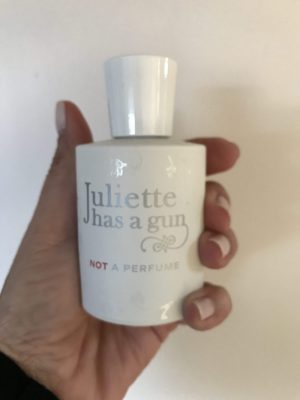 If you are looking to totally blow $100 plus on this one be my guest!
Being the type of person willing to try just about anything (fragrance-wise) I was really excited about giving Juliette a shot. I'd read several reviews and it seemed like at least a few people were quite enamored with the fragrance. Reviews said that it was unique, fresh, exciting, really different. Naturally I was intrigued and hopeful.
Suffice to say that curiosity killed the cat.
My first reaction upon spritzing it on my wrist was WTF. Are my nostrils blocked??? Is this a joke??? In disbelief I tried my other wrist and it was the same thing. Truthfully "Not a Perfume" should have been a big clue but I seriously didn't imagine that anything costing this much would smell like vodka mixed with seltzer water. After a few minutes the rancid odor faded away into literally nothing which was actually preferable.
Desperate to find out exactly how this fragrance even got on the map I frantically hit the internet. I went onto the website and saw that literally everything except the names of their perfumes was written in in french. Digging a little deeper on the web I learned that "Juliette Has a Gun Not a Perfume" is a fragrant molecular composition of the single note cetalox captured in a perfume bottle." On a mission now, I learned that Cetalox, also known as Ambroxan, is a synthetic molecule created in the 1950s by the Firmenich firm as a substitute for ambergris which had become very expensive by then.
Just to rule out the possibility that I hadn't received a knock-off, I tested the fragrance later at a  Sephora store and had the same ghastly experience.
Oh well, another frog kissed and no lasting damage:)