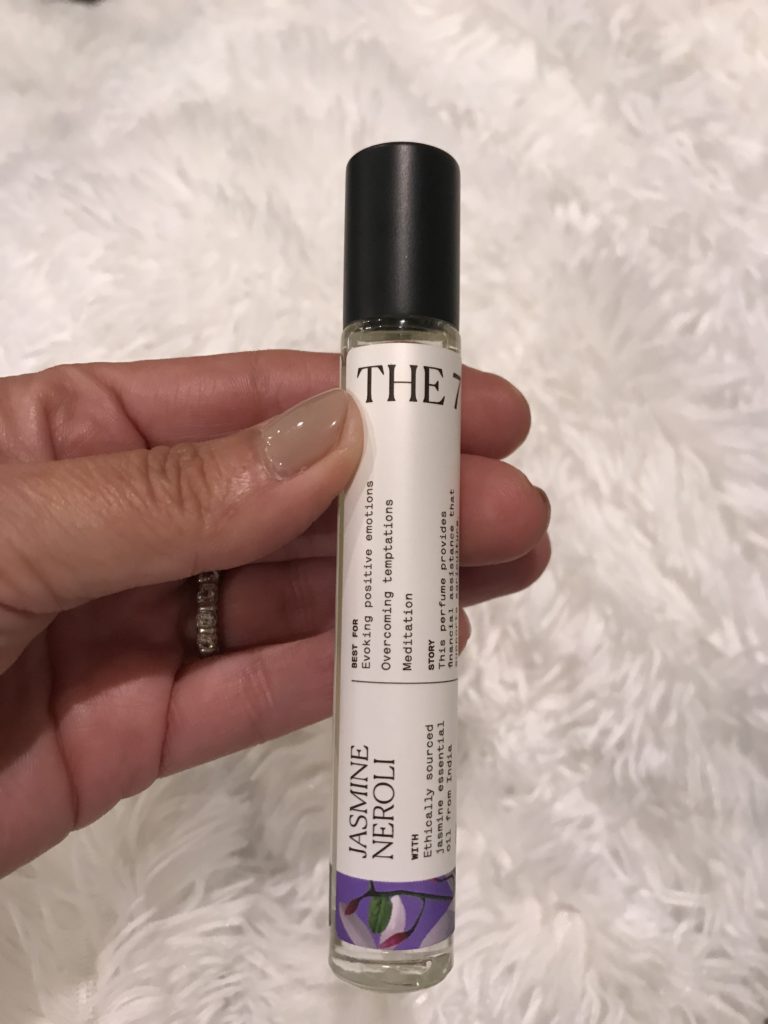 Well I'm very excited to share with you a new perfume I just discovered at Sephora. Without even blinking I purchased it 5 minutes after trying it. Alright I only purchased the rollerball – having learned from making prior costly bad choices – but I'm loving it so much that I'll be back for the full-size bottle as soon as the rollerball is caput.
The name of the perfume is what first drew me in — Jasmine Neroli. With such an irresistible name I'd be insane not to give it a quick try at the very least. Jasmine is one of the most commonly used notes used in perfumes and there are a million different directions a perfumer can go with it. I'm just so hard-wired to try any perfume with jasmine in its name that I rarely pass any opportunity to sample it.
I'd heard about The 7 Virtues brand, founded by Canadian author Barb Stegemann.  Apparently it started with a mission to help and empower Afghan women to encourage them to cultivate natural flower crops. This was intended to create an alternative to Afghanistan's illegal poppy crop which supplies most of the world's heroin.
The company's mission is "to build a gourmand fragrance line that is stand-alone exquisite in quality and at the same time empowers others." The 7 Virtues perfumes are made from fair-trade organic oils that are sourced from countries experiencing war or strife. The fragrances are currently sourced from the Middle East and Africa. Their first perfume was Afghanistan Orange Blossom launched on the International Women's Day in 2010.
In 2018, The 7 Virtues launched 7 new fragrances – called Peace Perfumes — under the Sephora Accelerate program which is "dedicated to building a community of innovative female founders in beauty." The perfumes include Grapefruit Lime, Orange Blossom, Patchouli Citrus, Rose Amber, Vetiver Elemi, Vanilla Woods and Jasmine Neroli.
Although all of them are well-crafted scents that will find undoubtedly find many happy owners, Jasmine Neroli was the one I fell hard for. I just couldn't keep from inhaling my scented wrist while I wandered around Sephora feeling my resolve not to purchase any new fragrances slowly go by the wayside.
Besides just smelling amazing, jasmine essential oil is known for its ability to help with meditation and induce a more positive mind set. Many associate jasmine as the floral fragrance that stands for our yearning for beauty and love although in some cultures it represents appreciation and good luck. Its name comes from the Persian word "yasmin", meaning "gift from God".
 Neroli is another scent that's right up my alley. Derived from orange blossoms, neroli smells delightfully crisp and clean with an element of citrus. It blends gloriously with jasmine here, lending a freshness that makes the jasmine pop.
Jasmine Neroli smells amazing from the get-go but it gets even better over time. The floral notes transition into a delicious powdery softness made warmer and muskier by labdanum and amber. The mood it evokes is innocent yet sexy. 
The wording on its label reads:
Best For:
Evoking Positive Emotions
 Overcoming Temptations
 Meditation
I see this as special enough to be worn as a wedding day perfume. It smells nothing like the earthier scents I've tried which are supposed to aid in meditation. The longevity is fantastic and I can still smell it 8 + hours after first applying it.
The Seven Virtues perfumes are all vegan, hypoallergenic and cruelty-free. A 1.7 oz bottle costs $77 and 1.7 oz rollerball costs $28.