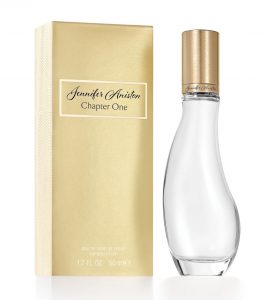 Chapter One by Jennifer Aniston was released in October 2017 and is said to encompass the chill California lifestyle where she finds peace and serenity. I have to say that the bottle design is strikingly unattractive, kind of resembling a deformed letter J, but what's inside is worth checking out.
Chapter One is a feminine mix of delicate florals, fresh citrus and warm teakwood notes that is captivating without being overpowering. The floral notes of tuberose, tiare flower and jasmine are understated and subdued. Mixing with the woodsy notes at the dry down are a gentle musk and creamy tonka bean   It's the type of scent that manages to smell relaxed and elegant at the same time. The only aspect of this perfume that disagreed with me is the pink pepper note in the opening but luckily it fades pretty quickly.
"This fragrance takes the wearer on a comforting journey from sunset on the dazzling beaches of Malibu to the breath-taking cliffs of Joshua Tree National Park and the lush vineyards of Napa Valley. To achieve this, the scent incorporates uniquely Californian notes like Grapevine Flower, a white flower found throughout California's wine country." – Press release  
There's definitely something about Chapter One that captures the boho vibe of Joshua Tree, but what this scent projects most for me is the beloved vineyards of central and northern California, which is worth visiting just to smell the air and capture the sights. When I smell Chapter One I can feel the warm sunshine on my skin and miles of verdant vineyards stretching to eternity.
While there are those who are convinced that this fragrance is a dupe of Tom Ford's Soleil Blanc, it's also a fraction of the cost. Chapter One can be found at Kohl's and on Amazon for under $30. Unlike many of the celebrity fragrances out there, you get more than you pay for with Chapter One.