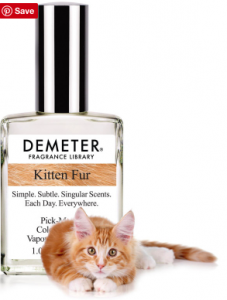 When I heard about the new fragrance launched by Demeter Fragrance Library – Kitten Fur – I couldn't wait to get my paws on it. I stalked my mailbox daily until it finally arrived. If there's anything cuter than a kitten I don't know what it is. Even die-hard cat haters melt in the adorable, cuddly presence of  baby felines.
The fragrance took 15 years to perfect (or purr-fect) according to the Demeter website: "After 15 years of effort, Demeter has captured the olfactory essence of the warmth and comfort of that purrfect spot, just behind a kitten's neck."
Demeter is known for its exploration of idiosyncratic and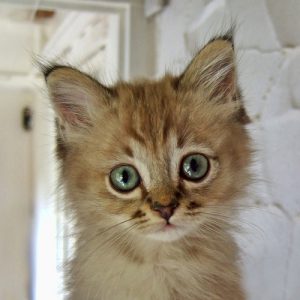 compelling scents, such as Glue, Dirt, Funeral Home and Play-Doh, so this one sounded pretty tame by comparison. But despite Demeter's claims that this one smelled "purrfect", I had read a few less than stellar reviews on the Demeter website, one saying that it smelled like "a cheap flea collar" and another compared it to the smell of "rotten eggs and burning fur."
So what does Kitten Fur actually smell like? I pick up notes of vanilla, almond and musk. It's slightly sweet and powdery with great longevity. A little goes a long way. Does it smell like a kitten? Not so much, but it fully delivers on the same warm and comforting feeling that kittens generate. Pretty awesome 🙂 Much like an adorable little fur bunny purring in my lap.
This fragrance is available in multiple formulations,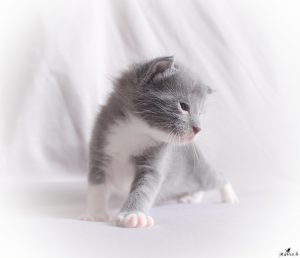 including cologne spay, roll-on perfume oil, body lotion, shower gel, massage oil and atmosphere spray (just in case you want your entire home to smell kitten-esque). Prices range from $6 for the 1/2 oz. cologne mini-splash to $39.60 for the 4 oz. cologne spray.
I asked my kitty Star – now 17 years old but still a kitten to me:) – what she thought of Kitten Fur and she said that it reminded her a little of Victoria Secret Heavenly. Very soft and conducive to spritzing on before taking a nap.
It should be noted for those who are (rightfully) concerned: No kittens were harmed to create Kitten Fur.
Update: Shortly after posting this I came across this winner of The Most Adorable Kitten in my book. Honestly, could she be any cuter?