I had been reading about this perfume from fragrance company Memo Paris, known for their scents based on memories of places they've been and loved. There have been so many new scents released in 2018 that it's impossible to try them all. After finally getting my hand on a sample this morning, Tiger's Nest had me at first whiff. This is a really unusual perfume and totally not the type I normally gravitate to, but there's almost a mystical magical quality here that transports you to a place far, far away. 
I've yet to visit the sacred site of Paro Taktsang, nestled high in the mountain cliffs of Bhutan, but have heard from others who have that it's breathtakingly beautiful. The Tiger's Nest, formally known as Taktsang Palhug Monastery, is Himalayan Buddist temple site and complex that's located in a dramatic setting perched on a high cliff over 3,000 feet above the Paro Valley.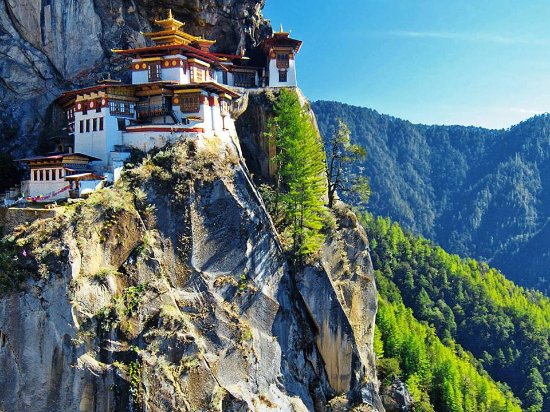 According to legend, Guru Padmasambhava flew to this spot from Tibet on the back of a flying tigress and landed on the cliff, which he anointed as the place for building a monastery. Guru Padmasambhava or Second Buddha is given credit for introducing Buddhism to Bhutan. The complex is built around a cave where he is said to have meditated for three years, three months, three weeks , three days and three hours in the 8thcentury (Wikipedia).
Not surprsingly, this is an incense scent but not in the overpowering (gasp) way that some are. There's a bit of citrus and aldehydic brightness here which lightens it up considerably while still keeping good company with spicy and smoky notes. It's impossible to miss the dry and bitter absinthe accord, a smell that I normally don't enjoy, but here it totally works.  A hint of papyrus, in keeping with the scent of treasured texts, furthers the feeling of ancient wisdom. Transparent floral notes provide a delicate balance and vanilla and talu balsam lend a warm and plush quality. 
I thought I caught a faint fruitiness in the mix but on second sniff I wasn't so sure. Possibly it was osmanthus which has been known to smell a lot like apricot or peach.
Tiger's Nest by Memo Paris is a nuanced smell that's tricky to describe and certainly not a mainstream scent. It smells to me of fearlessness, solitude and spirituality and will be especially enjoyed by those who love incense fragrances. A 75 ml bottle is $295 and a 10 ml bottle is $69 at Luckyscent. Or, if you just want to purchase a sample from Luckyscent to see what all the fuss is about, that can be had for a mere $5.