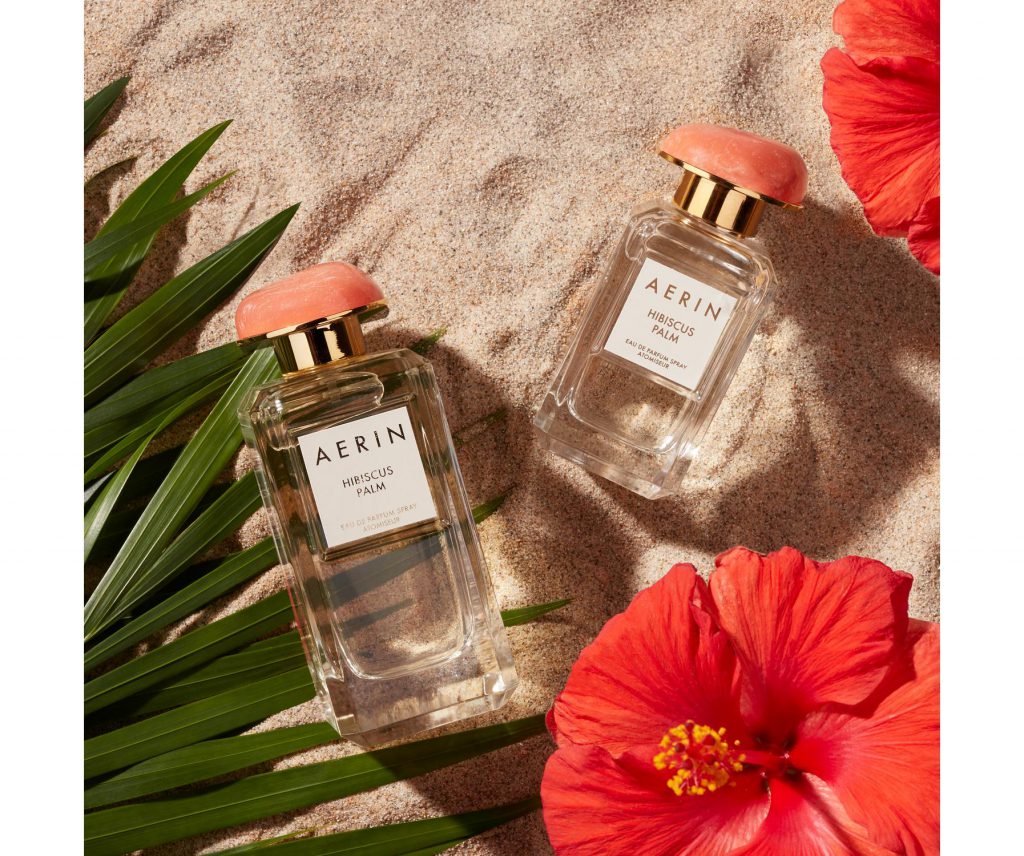 Spring technically starts next week but it's hard to believe as I sit here in my freezing office looking out my window at huge mounds of snow. Supposedly we are due for a "four'easter" in a couple of days, which is the fourth nor'easter this winter. Let me tell you I am DUNZO with this frigid weather and past ready to ditch the cold weather gear. Hopping on a plane to an island escape sounds enormously appealing but that's sadly not in the cards.
Time to get my fix by spritzing from a sample of one of my new discoveries – Hibiscus Palm by Aerin.
Hibiscus Palm is the tenth fragrance released by the lifetime brand founded by Estée Lauder's granddaughter and was launched in 2017 in Telum, Mexico. It was inspired by tropical life and exotic flowers.
According to the website:
Hibiscus Palm captures a palm-fringed, tropical island with accords of Lotus Flower and Hibiscus Palm mingled with Ylang and exotic Ginger. Frangipani blends with a heart of fragrant White Blossoms, wrapped in the velvety warmth of Coconut Milk, Vanilla and Musk, to evoke the scent of brilliant sunshine on a lush beach.
I've always found hibiscus flowers pretty although I don't think I've ever smelled one with much of a scent. It's one of those flowers like the orchid whose stunning looks more than compensate for their deficiencies in the fragrance department. Just looking at them puts a smile on my face?
What I get from Hibiscus Palm is a whole lot of tuberose initially which fades into light, creamy scent of musk, vanilla and just a hint of coconut. There's definitely a tropical resort-ready vibe but it's more sophisticated than Kai or Child.
My only issue with it is that it's not very long-lasting which would make it hard to justify paying $170 for a 3.4 oz bottle or $120 for a 1.7 oz spray. The rollerball which costs a mere $30 is the most tempting option for me.