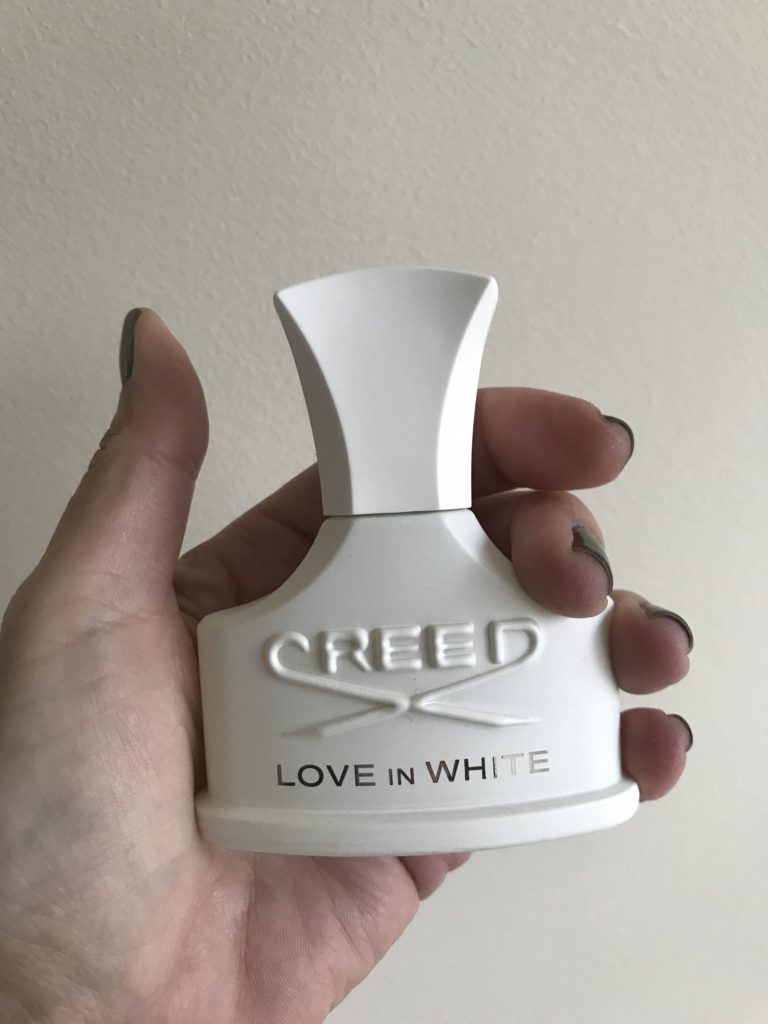 The Creed fragrance house has been around a long time. Exactly how long is a hot topic.  They claim to have created Angelique Encens in 1933 for the Bishop of Paris although this has been disputed. It seems that collectors and historians are only able to trace the first Creed perfume back to 1979. (Wikipedia)
That said, they're still not exactly new to the game and have created some really noteworthy perfumes, especially one that I talked about here. There are so many excellent niche brands out there and they've created a loyal following.
Released in 2005, Love in White is a beautiful mélange of elegant magnolia, sweet jasmine and powdery iris. It's soft, fresh and romantic; there's something about it that smells thoroughly modern but with a classic touch. It contains a touch of orange zest which lends a bright freshness when you first spritz it on. Supposedly there's a Tonkin rice note in the formula but I don't detect it; this is probably a good thing since I generally dislike the scent of rice in perfumes.
My favorite stage is the drydown, which contains notes of creamy vanilla, sandalwood and ambergris. I really enjoy the way it unwinds on my skin into something sensual and earthy. Really stunning!
 Love in White is classified by Fragrantica as floral oriental perfume but it's much more lightly spiced than most oriental perfumes.
I could easily see LIW as great spring/summer perfume, perfect for a summer wedding in Hawaii. It's a sophisticated yet comforting scent with a vaguely marine quality to it.
When I first spritzed it on I assumed this was intended to be a feminine scent but after wearing  it for a while it morphed into something more masculine. I could easily see how some men would enjoy it, although it's an entirely different animal than Creed Aventus.
It should be noted that people seem to be very divided about this scent; love it or hate it. I highly recommend you try sample on your skin before considering buying it. It smells quite different on skin than on paper.
All Creed fragrances are pricy and Love in White is no exception. There are five bottle sizes sold on the Creed website, started with 30ml ($220) to 1,000ml ($1,180).