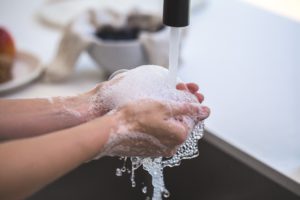 We all know that these past couple of weeks have been crazy. COVID-19 has completely taken over the news and all social feeds. It's gotten to the point that it's practically impossible to focus on much else. For lack of any better options, I've been turning to olfactive therapy to help get through these troubling times.
Our world has been turned inside out and upside down with the spread of this uber-virus, making it nearly impossible to relax and enjoy even a moment of peace. Every day we are blasted with alarming updates, news about pandemonium at airports and new restrictions to follow. Shopping at grocery stores has become a major ordeal. People are in panic mode and hoarding toilet paper is the new normal?
I had no spring travel plans, no "spring flings" on the agenda, which is a good thing given the current situation.  Instead, I've been thinking a lot about perfumes that transport me to locales full of luminous blooming flowers or beaches packed with revelry.
In times like these, when we're ordered to hunker down at home and avoid human contact as much as possible, I'm so thankful that I have my beloved perfumes around me. It's been a godsend that I have a ready arsenal of my lovelies to bring me stress-free enjoyment.
This week I've been experimenting on layering some of my favorite scents and finding amazing new combinations (more on that in a future post). I also have a bag of new samples acquired shortly after the move I'm going through. I'm beyond excited to have this stash since I won't be stepping into a department store or perfume shop any time soon.
I also feel grateful to be living in Santa Barbara now. Normally I love the outdoor scents of eucalyptus, pine and lemon grass which happen year-round but it's been rainy lately. People are always excited when it rains here since we really need it. Lately the outside has been smelling like petrichor which isn't an aroma I love in itself but suggests the promise of springtime flowers.
If you too are feeling like you need a little olfactive therapy, these are a few suggestions for fragrance notes to help get through the stress and strain of the coming months.
Violet
Although violet perfumes became very popular during the reign of Queen Victoria, don't make the mistake of assuming violet-centric perfumes smell dowdy and dated. There's no need shy away from the humble violet as there are a number out there with a modern twist. Today's violet fragrances run the gamut from powdery, sweet, musky and even spicy.
Cult fragrance Le Labo Santal 33 became a hugely popular signature scent in NYC and LA when it launched in 2011. It was literally impossible to walk down the street without it wafting your way. Iris, violet, cardamom and sandalwood combined create a smoky, spicy and leathery scent.
Acqua di Parma Rosa Nobile is another lovely scent that contains violet and peony notes but it's rose that takes center stage. The violet here comes across as soft and velvety and the combined floral bouquet balances out the warmer notes of cedar wood and musk.
Frederic Malle Lipstick Rose, which was based on perfumer Ralph Schweiger's memory of his mother's lipstick, has a more nostalgic vintage vibe. Rose and violet exude a classic elegance while vetiver adds an earthiness and raspberry a slight sweetness.
It's taken time for the lowly violet to get the respect that she deserves. Tuberose would have insisted on it and demanded it being the diva that she is.
Tuberose
Possibly the most polarizing floral note that exists, tuberose has as many die-hard fans as passionate haters. Its distinctive scent has often been likened to orange blossom and gardenia. While I get the similarities, tuberose has a sexy femme fatale quality that's really is uniquely its own. It's been called the harlot of perfumery due to its carnal, creamy, sweet and slightly medicinal aroma. Tuberose is a bundle of contradictions.
Despite its name, a tuberose isn't a rose. Interestingly tuberose is a member of the agave family which is use to make tequila. Although it's originally native to Mexico, it's primarily grown in India where it's known as "mistress of the night".
When I think of tuberose perfumes, Robert Piguet's Fracas is the first that comes to mind. After more than 70 years since its debut, Fracas still has legions of ardent fans. It's a love it or hate it perfume. I've gone back and forth with it but currently love it. I'm savoring my small vial of vintage Fracas (obtained from Surrender To Chance) and will use it as needed during my time stationed at home.
Another favorite which was released a few years ago is Aerin Tuberose Le Jour. A captivating fresh floral scent, it captures the raw power of tuberose without going over the top. Orange blossom and neroli have a lovely way of mellowing out the tuberose and the cedar notes have a way of grounding the white florals. The longevity is quite good which is a huge plus in my book.
If you're looking for a bargain tuberose scent, Zara Tuberose Noir is one to try. The nose behind this scent, which was released in 2019, is none other than Jo Malone. There's no mistaking the tuberose in this concoction but there's also a smoky, woodsy almost rubbery aspect in the dry down.  Priced at under $30 this is a steal.
Frederic Malle Carnal Flower, while not quite achieving the legendary status of Fracas, is a not to be missed opulent and indolic tuberose powerhouse. It manages somehow to be both seductive and chaste, bitter yet sweet. It's a very realistic scent that reminds me of a rainforest. Enticing citrus, creamy coconut and minty eucalyptus notes are served alongside dewy tuberose, intoxicating jasmine and sensual white musk. As I mentioned before here, Carnal Flower reminds me of California.
Rose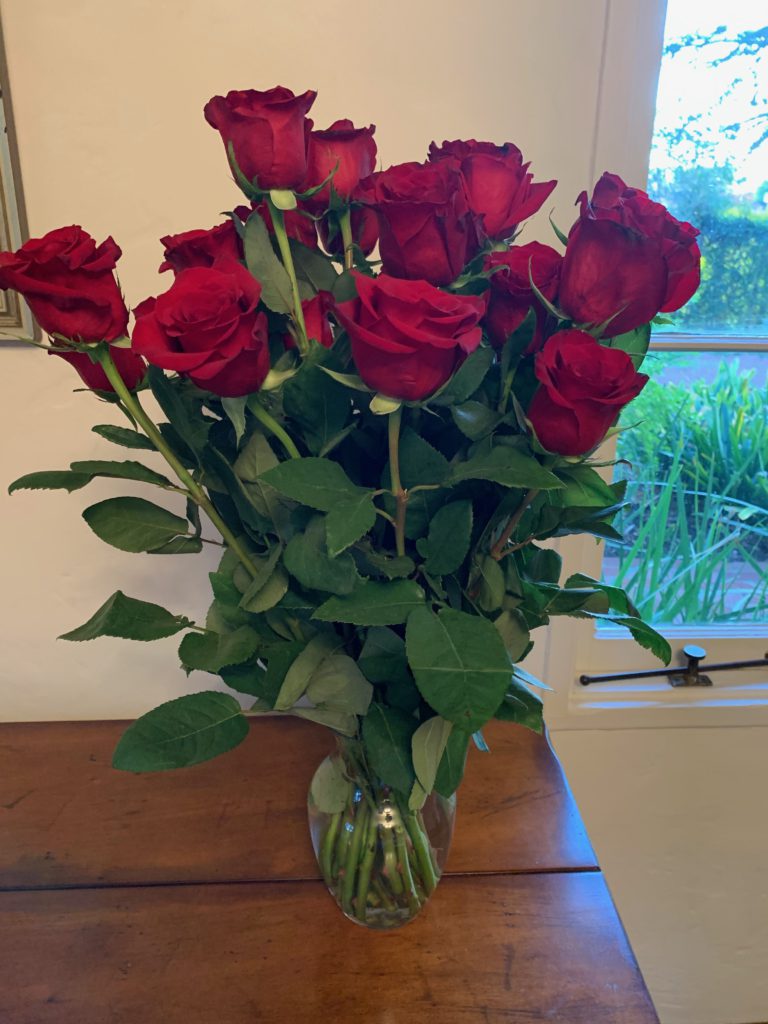 If there was ever a time to "stop and smell the roses" it's now.
Known to represent love and desire, it's a safe bet that there will never be a shortage of rose perfumes. They range from high-end to affordable and until romance is officially dead there will be never be a lull in new releases.
Many of the more recent releases appeal to a younger audience, those that prefer "not your grandma's rose perfume". I generally feel that rose has a hard time competing with jasmine or neroli when it comes to perfume and is at an even greater disadvantage with gardenia. 
Two of my favorite rose perfumes currently are Kai Rose and Diptyque Eau Rose. Kai Rose came from perfumer Gaye Straza as a follow-up to Kai, her first fragrance which is still wildly popular. I keep a vial of roll-on Kai Rose in my bag when traveling to bring a sense of peace and gratitude.  A tiny bit lasts for 6 plus hours and is guaranteed not to offend anyone.
Diptyque Eau Rose is a lovely interpretation of rose. I've always loved Diptyque and their great line of products. When I lived in New York I loved popping into their Madison Avenue boutique and was always greeted with not only the amazing scents awaiting my discovery as well as the very knowledgeable SAs. There's a reason they've been around for so long.
I'd describe Diptyque Eau Rose as a lot like a fresh rose garden with a faint hint of musk. It's a romantic old-school rose with a modern twist. I love it alone but also layered with Replica Flower Market.
Jasmine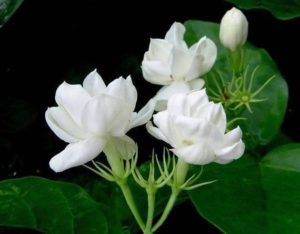 Did you know that over 80% of perfumes contain varying amounts of jasmine? Its sweet and sensuous floral aroma seems to have a universal appeal.  The name is Persian and means "a gift from God". The Persians, the Greeks and the Egyptians long ago recognized its special powers to captivate, sedate and heal.
It's an expensive ingredient to bottle but even the smallest amounts can give body and volume to most perfume bases. Many perfumes use such small amounts you don't even know it's there.
Jasmine is often described as heavenly smelling, exotic, exquisite, tenacious, sensuously rich, supremely sensual, intense, slightly heady, narcotic, intoxicating, sometimes clawing, warm with oily leafy-green, fruity undertones, illusive, sweet and warm. It's long been considered an aphrodisiac and has been associated with increasing levels of intimacy, transcending physical love and breaking down barriers to a fuller expression of intimacy. 
If you're already a committed jasmine lover, chances are you've tried – or at least heard about – Serge Lutens A La Nuit. A La Nuit starts out as very green, intense and slightly sharp but eventually softens into a sweet, creamy and exquisite jasmine. This scent is all about jasmine. It's such a realistic interpretation that it's almost like you're carrying a gorgeous bouquet of freshly picked jasmine in your arms rather than wearing a perfume.
Two jasmine perfumes I've been finding myself reaching for lately are Susan D. Owens Child and The 7 Virtues Jasmine Neroli. They're both understated, uplifting scents that never fail to make me want to keep sniffing myself throughout the day. I've gotten so many compliments with both of these that I've come to expect them.
If classic perfumes are your jam, you're likely a fan of Jean Patou Joy. Long considered an icon in classic perfumery, Joy made its mark in the 1930s with the tagline "costliest perfume in the world". According to Patou, one ounce of Joy parfum required 10,600 jasmine blooms and 28 dozen roses to be produced. Although there have been numerous reformulations and flankers since those days, it is still possibly to secure a bottle of the original through Ebay auctions, estate sales or collector's private sales.
Another classic that deserves to remain on a pedestal is Chanel No. 5. It was a groundbreaking scent when it first debuted in 1921 and shows no signs of dropping out of sight. Like Joy, there have been numerous reformulations. No. 5 is a complex blend of aldehydes and floral notes – most notably jasmine, rose, ylang-ylang, lily of the valley and iris – and a warm woody base. It's a must-try for any budding perfumistas reading this, especially those with jasmine tendencies.
Gardenia
I've talked about my love affair with gardenia a lot here. My earlier post about Best Gardenia Scents seems to have resonated with others who've been bitten by the gardenia bug.
There's just something about its elusive scent that I adore. There have been so many I've tried and dismissed, others I've hated at first and then changed my opinion on. I don't think I'll ever find what people call the "holy grail" but I'm totally OK with that. I'm not even sure I want to since I enjoy the hunt so much.
One of my latest favorites since the post are Olivine Atelier She Belongs There. It captures the essence of what I adore about gardenia and it's addictively wearable: creamy, captivating, mysterious , narcotic. It totally captures the best qualities and waxiness of a natural gardenia. It quickly morphs into a skin scent that lasts a good 8 hours.
Van Cleef & Arpels Gardenia Petale is one still I'm thinking about. I had a sample from Lucky Scent before the move, was unsure if it was a like or a love and sniffed until it was almost empty.  I'll need to try it again to have a full impression once I manage to snag another sample. To be reviewed later…
On a totally different note – to all of you who are freaking out about coronavirus and lack of hand sanitizers, probably even scouring YouTube for DIY, most colognes contain enough alcohol to do the trick. Typically they contain around 90% alcohol which is more the recommended 60%. I just ordered a 3 pack of Jean Naté for the family on Amazon. If Jean Naté's scent of lemon verbena, lavender and vanilla doesn't sound like quite your thing, there are numerous other colognes you'll be able to find on Amazon without needing to venture out. Make sure you purchase a cologne and not perfume or eau de toilette since the latter contains less alcohol. You're welcome!
I hope everyone is managing as best they can during these challenging times and staying put. What do you find yourself doing to pass the time sequestered at home?
Until the next time,

*As an Amazon Associate I earn from qualifying purchases.