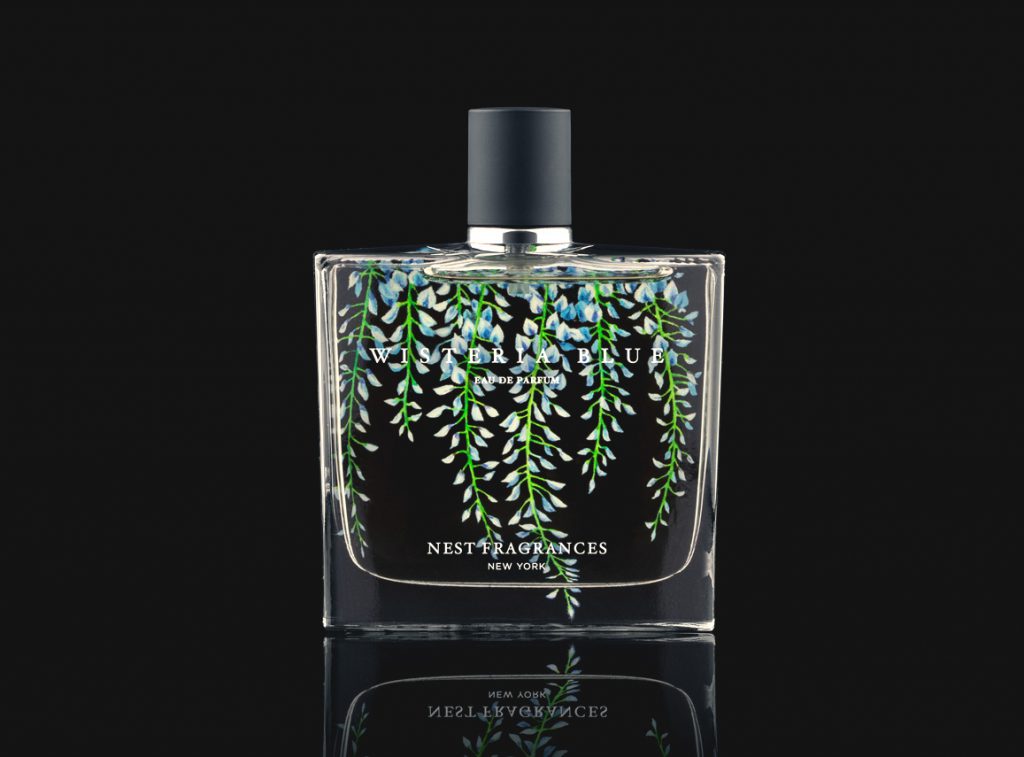 I've always had an appreciation for wisteria, a stunningly beautiful  flower that opens in purple, blue and white colors. The smallish flowers remind me a little of grapes since they appear in clusters. Although I admire their looks, I seem to have forgotten what they smell like or even if they carry much of a scent. So, when I had the chance to try Wisteria Blue, the newest fragrance by Nest, I was kind of in the dark not only about what it would smell like but even what it should smell like.
Nest Fragrances perfume and cologne brand was founded in 2012 by New Yorker Laura Slatkin, whose talents, beauty and money-making skills are way up there. Former investment banker and philanthropist for Autism (her son is severely autistic) she turned her passion for scent into impressive home fragrance and perfume businesses.  You can learn more about her and her inspiration here.
The inspiration for Wisteria Blue came from an encounter she had while walking through the Historic District in Charleston, South Carolina. In a video from Sephora's website, she explains: "I came across a home that was covered in wisteria blossoms in the most extraordinary shades of lavender, blue and white; I realized right then and there that I knew I had to create a wisteria fragrance."
Ms. Slatkin was inspired by the botanical artwork of 18th-century artist Mrs. Mary Delaney to create the striking packaging for each of her 19 fragrances to date. Using Delaney's artwork as her guide and muse, she worked closely with acclaimed Russian artist Alexander Solodukho who painstakingly sketched and painted the botanical artwork for the scent's packaging.
In creating Wisteria Blue, she worked closely with Givaudan perfumer Rodrigo Flores-Roux to develop the fragrance. Says Slatkin, "When I got to his lab, he shared with me an essence of wisteria. He said that this rare essence was extracted from wisteria blooms adorning Petit Trianon, Marie Antoinette's home in Versailles. It was pure perfection."
Wisteria Blue can be described as an aquatic floral, containing notes of delicate wisteria blended with Bulgarian rose, Imperial jasmine and fresh watery nuances.  It's a lovely soft and clean floral with moderate longevity. I enjoy the scent but it's the packaging that most impresses me.
Wisteria Blue by Nest is available at Sephora in 1.7 oz bottle ($72) and .27 oz rollerball ($27). The rollerball is one you'll be reaching for often if only to touch the beautiful bottle.