Venice, CA has a well-deserved reputation as a unique enclave for poets, musicians, artists, roller skaters, beach bums and colorful eccentrics. Abbott Kinney Blvd., which has been called "the coolest block in America" by GQ magazine, is a bustling dining and shopping district in Venice. It's home to both one-of-a-kind local products as well as internationally recognized brands such as Strange Invisible perfumes.
I'd heard about the brand and it's founder, botanical perfumer Alexandra Balahoutis, so I was thrilled beyond belief to randomly spot her boutique on a day trip to Venice while out visiting my son who's currently living in LA. I first became aware that Strange Invisible perfumes were "a thing" after repeatedly seeing it mentioned in magazines (People, Town & Country, Vogue were just a few that featured reviews).
As I entered this appealingly minimalistic shop, I was warmly greeted by a store salesperson. She was quite knowledgeable, not at all pushy and seemed genuine in her desire to help me find perfume I'd go wild over.   I was especially interested in sampling their "Perfumes of the Zodiac" line.
Whether or not you are into astrology, who isn't at least interested in seeing if the perfume created for their astrological sign is a hit or a miss? Since my sign is Aquarius, "The Rebel With a Cause", I started there.  According to the product description, ingredients of "neroli and rosemary fuel Aquarius's independence, intellect and humanitarianism. Lavender, white sage and frankincense soothe anxiety, grounding Aquarius when airy detachment sets in." After applying it and walking around the store for a bit I came to the conclusion that I really liked it but there was something that stopped me from being all in. I'm pretty sure it was the frankincense.
I spent the better part of an hour inhaling these distinctive scents until my nose was finally tapped out. My favorite in the line of zodiac perfumes was Virgo, which was an intoxicating blend of neroli, temple mandarin and rose.
The only one I really disliked was Pisces, which reeked of a disconcerting mix of jasmine, lime, black pepper, cedar wood and frankincense.
Though each Zodiac scent represents the complexities with each sign, Alexandra recognizes that we are all more multi-faceted than just our sign. "We all have more than one sign layered within our personality," notes Alexandra. She recommends layering different scents as the wearer wishes.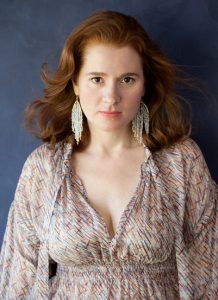 Alexandra founded her brand in 2000 with the conviction that high-end perfumes be made of authentic botanical essences according to Old World methods. Employing a process that is hundreds of years old, Strange Invisible Perfumes are 100% botanical, made from flowers, seeds and resins and are entirely without synthetic aromas or animal essences. The botanicals are extracted using a process called hydro-distillation, where they are soaked in water and then gently heated to separate the oils. Lastly, they are hand-blended using Esprit de Cognac, an artisanal grape alcohol. According to their website, Strange Invisible fragrances "blend certified organic, wildcrafted, biodynamic, and hydro-distilled essences with genuine inspiration and compelling narratives." Limited batches are aged for a minimum of six months. Each entirely natural perfume is designed, decanted and bottled in Venice, CA.
The boutique carries a full line of fragrances as well as bath and body products for both men and women. The most recent addition to the line is a home fragrance, Ojai Room and Linen Mist, which was inspired by Alexandra's family's 400-acre citrus farm in Ojai, CA.
By chance or accident, the Strange Invisible boutique is next door to  Le Labo, a French vegan perfume brand that has multiple locations world-wide. Strange Invisible has just this one store which I feel so fortunate to have visited.
Balahoutis named her company from a line in Shakespeare's Antony and Cleopatra: "from the barge a strange invisible perfume hits the sense of the adjacent wharf."
In the setting of boho chic Abbott Kinney Blvd., Strange Invisible doesn't seem strange at all. Located at 1338 Abbott Kinney Blvd, Venice, 310-314-1505 (http://siperfumes.com)
Until next time,