If you find yourself drawn to mainstream florals that are pretty and clean, J'Adore by Dior might be just the one for you. Debuting in 1999 by perfumer Calise Becker, it is not only still around but continues to be incredibly popular by consumers of all ages. Having said this, it has also endured countless reformulations for reasons not quite clear to me since the first release was extremely successful and quite lovely. But that's the perfume industry… a rant for another time…
After first applying it, J'Adore comes across as a refreshingly clean, just out of the shower scent until it morphs into a more complicated fruity floral composition. My nose interprets it this way: It starts at the top as magnolia, peach, bergamot and orange blossom until heart notes of jasmine, plum and rose take over. The heart notes pretty much hold court throughout but musk and blackberry eventually emerge in the dry down.
The Dior website states: "J'adore Eau de Parfum is the ideal bouquet – finely crafted down to the last detail, like a custom-made flower. Essense of Ylang Ylang from the Comoros unfurls its floral-fruity notes and instills a soft exotic touch. Damascus Rose, sophisticated and exuberant, then comes to warm the senses. Last but not least, a duo of Jasmines echo one another in a perfect embrace. Jasmine Grandiflorum from Grasse, the quintessence of a noble floral, exudes its delicate sensuality, tinged with fruit and sun and works in harmony with the more carnal quality of Indian Jasmine Sambac, "flower of the gods," with its warm facets of incredibly sensual and enveloping orange blossom." (http://dior.com)
The idea behind J'Adore was gold and  its hypnotizing effect. If the perfume doesn't do it for you, the ads  showing glittering and scantily clad Charlize Theron effortlessly strutting her stuff should work. Seriously, does this woman ever age?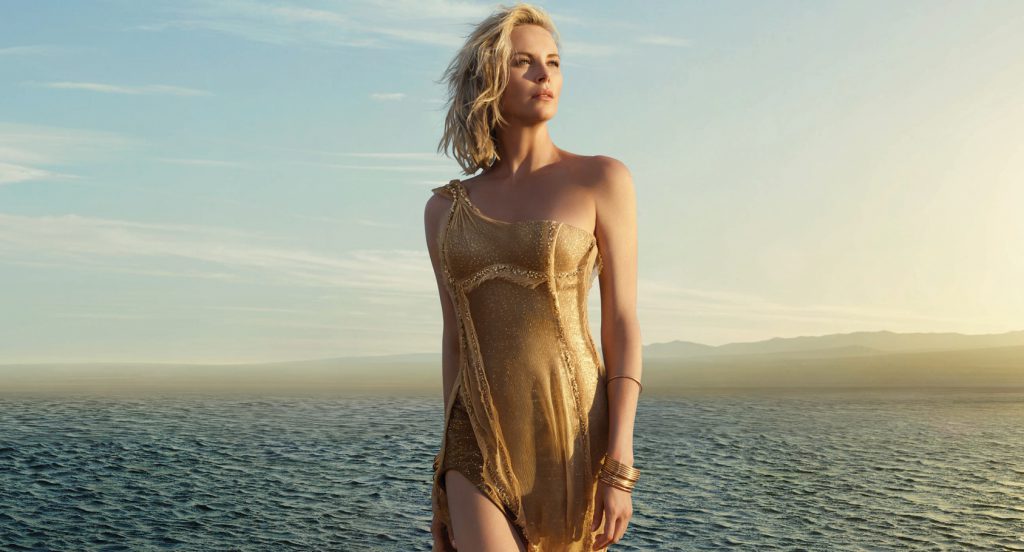 PS. J'Adore is pronounced Za-DORH. A 1.7 oz. bottle costs around $95.