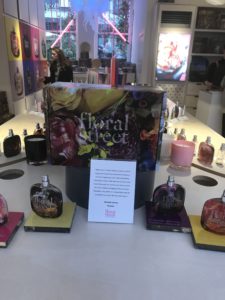 This newly opened perfume boutique is definitely worth popping into should you find yourself in Covent Garden in London. It was on my must-visit destination list while recently in town and actually stumbled upon it accidentally while taking a quick stroll outside my hotel. As you might expect, Floral Street specializes in floral fragrances, each designed to fit different moods. Whether you're feeling dreamy, focused or quirky, Floral Street has a scent for that.
Stepping inside the shop was like falling down a rabbit hole of powerful visuals and alluring bottles. Each of the eight perfumes seemed to be flirting for attention and I was happy to comply. The perfume bottles are beautiful and the darker the background color of the bottle, the darker the fragrance.
I was given a friendly welcome by Scott, the store "Florista" (yes that's what they are called here) who gave me the lay of the land. We talked about the types of scents I'm generally drawn to as well as the ones I tend to stay away from. After giving me a scentroduction  of all eight their perfumes he left me to wander and explore on my own.
PERFUME REVIEWS
 The only one which screamed feminine floral was Neon Rose, best described as a Green floral. The others were either Citrus (London Poppy), Musky (Ylang Ylang Espresso, Iris Goddess, Chypre Sublime and Black Lotus) and Woody (Wild Vanilla Orchid and Wonderland Peony).
NEON ROSE:
Happy and laid back, this is easy to wear and perfect for daytime or warm weather. Notes include bergamot, apple blossom, jasmine and rose.  According to Floral Street: "For the fiery, quirky, striking, expressive". My opinion: Not so much
WONDERLAND PEONY:
A warm and sweet perfume that packs a punch of sweetness, it fades eventually into a woody, balsamic scent. Notes: raspberry, violet, peony, sandalwood and resins.  According to Floral Street: "For the delicate, dreamy, radiant, thoughtful". My opinion: Yes
LONDON POPPY:
Citrus top notes give this a bright and uplifting quality before it turns into more of a soft jasmine aroma. Notes: Orange, Sicilian lemon, jasmine. London Poppy is described as a love letter to London, a city as tough as ever-lasting poppies. According to Floral Street: "For the resilient, focused, dynamic, energetic". My opinion: Right
WILD VANILLA ORCHID:
Creamy and heady, there's a whole lotta vanilla here but it's nicely balanced with floral and woody elements. Notes: Citrus, cassis, jasmine, vanilla bean, sandalwood, bamboo. According to Floral Street: "For the bold, sassy, confident, modernist". My Opinion: Yes
IRIS GODDESS:
If you can't get enough of iris perfumes and/or like Bottega Veneta then you'll really love this. It's a lighter, more modern version of BV but captures the same quality of seductive confidence. Notes: Lemon, red chili pepper, iris, carrot seeds, black vanilla husk and musk. According to Floral Street: "For the alluring, exquisite, dazzling, flawless." My opinion: Nailed it
CHYPRE SUBLIME:
This is a modern chypre which is almost explosive if you spray more than a spritz. I made that mistake and it was quite the wake-up call. This is one spicy and powdery bombshell. Anyone who goes for intense and confident scents might fall in love with it. It's described as a scent for musicians, painters and poets.  Chypre Sublime will either elicit a love it or hate it response. Notes: Rose, violet, geranium and patchouli. According to Floral Street: "For the sultry, exotic, mesmerizing, captivating." My opinion: Roger that
BLACK LOTUS:
Bold and dark, Black Lotus has a leathery tobacco quality that veers towards a masculine perfume. It's an avant-garde rose perfume that is best suited for the colder months since it packs a serious punch.  Notes: Rose, pink pepper, violet, saffron, patchouli, labdanum and black leather. According to Floral Street: "For the wild, feisty, rebellious, intoxicating".  My opinion: Absolutely
YLANG YLANG ESPRESSO:
Coffee scented perfume lovers will revel in the bitter/burnt aspect of this floral oriental scent. To my nose it almost smelled like cigarette ash which somehow isn't unpleasant here. Although Ylang Ylang Espresso isn't anything I would ever wear I found it intriguing. Notes: Ylang Ylang, rose, jasmine, coffee, whipped cream and pepper. According to Floral Street: "For the spirited, fearless, mystical, audacious". My opinion: Agreed
CONCLUSION
While I enjoyed testing out all of the perfumes, the only one that I fell hard for was London Poppy. I ended up purchasing a travel size bottle and will consider buying a full bottle once I run out.
Floral Street carries a diverse line of fragrances and has something for (almost) everyone. I agreed with their scent mood/personality descriptions except for Neon Rose.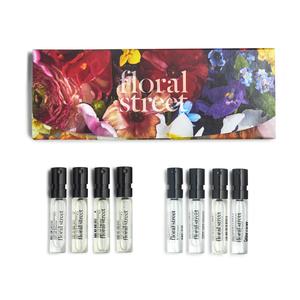 Available for purchase are a discovery set which includes all 8 fragrances (£17), 10 ml bottles (£38) and 50 ml bottles (£55). Some of their scents are also sold as body lotions and candles. Shipping is an additional £28 on the Floral Street website which is steep unless you plan on buying a lot of bottles. I'm hoping they'll become available for sale in the US sometime soon.
ABOUNT THE BRAND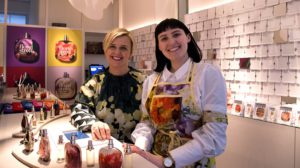 After a storied career working top jobs at Crème de La Mer, MAC and St. Tropez, brand founder Michelle Feeney decided to take a year off from making other people's brands famous. She decided it was time to spread her wings and launch a line of perfume that would fill an untapped need in the current perfume market. According to Feeney, "I saw a gap between Lush and Jo Malone for a brand that could be British, modern and deliver fine fragrance at an affordable price." (Vogue)
The perfumes in this collection were created by star perfumer Jerome Epinette who is known for his mastery of natural ingredients. Each scent was created using prized raw materials sourced by the iconic fragrance house Robertet.
The boxes used in the packaging are recyclable, compostable and sustainably sourced. 👍
Until the next time,