Celebrity perfumes have a bad rap and in many cases it's well-deserved. Not all of them are olfactory disasters though. In some cases, they are surprisingly good.
Whether we like it or not, we live in a celebrity-obsessed world. Although it may seem new because we are such a media-immersed society, it has been this way for a long time. Celebrities seem to tap into the public's biggest fantasies and primal emotions, elevating people from their daily lives and making them imagine that anything is possible.
The very first celebrity fragrance launched was Elizabeth Taylor's Passion which debuted in 1987. Since then the celebrity fragrance has turned into almost a rite of passage for many an actor, singer and sports star.
Wikipedia lists 55 singers and actors plus a growing number of sports stars who have launched at least one scent. With celebrities such as Katy Perry, Rihanna and David Beckham taking home millions with their eponymous scents, it's not surprising that nearly every celeb seems to have jumped on the bandwagon.
Companies like Coty, Avon and Elizabeth Arden love to partner with celebrities on new fragrances because they come with built-in fan bases. When Rihanna launched her Reb'l Fleur perfume several years ago she put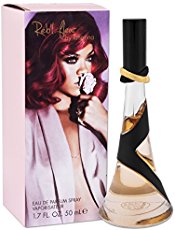 out a one-minute video that quickly made the rounds with her 5 million Twitter followers and 30 million Facebook fans.
The secret behind the success of most celebrity scents is that the wearer hopes to feel somehow affiliated with that person. It's almost a given that many will be huge money-makers for that reason alone. The fact that they're typically priced well below most designer fragrances is another reason for their popularity.
So let's start with the most awful, headache-inducing celebrity scents to have hit the market.
The absolute Worst Scents that I have personally tried are:
Gold by Jay Z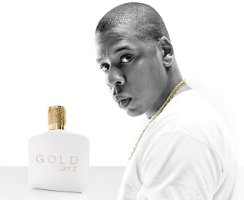 It's got to be pretty bad when the celebrity himself can't even bear to wear it. Even after launching his eau de rapper scent in 2013, Jay Z failed to do any promotion and ended up getting sued by Parlux Fragrance who produced the scent.
This is nothing more than a cheap knock-off to Paco Rabanne One Million. Wear it if you want to smell like a grapefruit and have others making stink faces as you pass by.
Fleur Fatale by Kim Kardashian
It begins with an intense alcohol burst which is really unpleasant before fading into a disappointing and nondescript floral. Comes in a tacky bottle that resembles that big booty which she is so well-known for.
The only scent in her line which smells even more hideous than this is Glam, which smells remarkably like Pledge furniture polish.
Kanye, plug your nose!
Meow by Katy Perry
More like Hiss to me. I can't tell if it's any particular note that screeches here or it's just the combination of gardenia, jasmine, tangerine, vanilla, musk and sandalwood that produces this almost volcanic eruption. Wearing this is sure to get you noticed but not in a good way.
No thank you!
M by Mariah Carey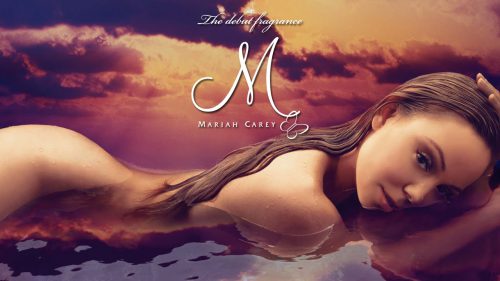 Not expecting  something quite this nauseating, my initial reaction was "OMG Ewww". I was literally gagging with the overwhelming sweetness of it and this comes from a gal who loves her desserts.
I can only describe it as a burnt-marshmallow fragrance in overkill that anyone over the age of 8 should avoid wearing.. All diabetics should also steer clear since there's enough sugar here to cause a hyperglycemic crisis.
Mariah, please stick to what you're good at.
On the Best List, here are a few that I really like even though I'm not too wild about the celeb on a couple of them:
Fantasy by Britney Spears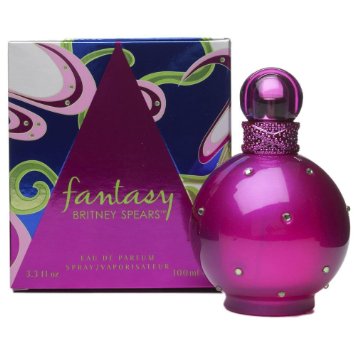 Britney's first fragrance, Curious, supposedly made 30 million in its first three months alone and there was much speculation about how her second fragrance, Fantasy, would compare.
"Curious was about taking chances, being rebellious, bold and young. Fantasy is more romantic and sexy. Now that Britney is married and starting a family, it's time for a more seductive, elusive fragrance." (Women's Wear Daily)
It definitely has sweet notes with fruits and cupcake accords but it's balanced by a subtle tartness, musk and woods. Fantasy is often compared to Aquolina Pink Sugar but I think it's much more nuanced and interesting. It manages to capture the sweetness without going over the edge.
Lovely by Sarah Jessica Parker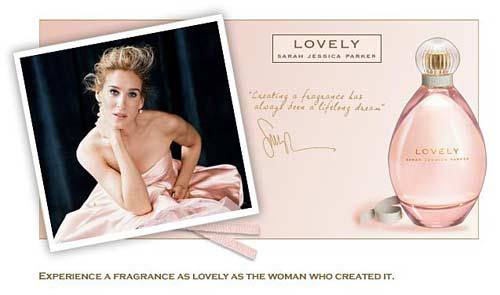 A wonderfully light and citrusy scent with notes of rosewood and cedar, this can be easily worn by both sexes. It's soft, quiet and discrete, with everything in the right proportions.
The name is spot-on: nothing really calling attention to itself but in sum just quite lovely. Unlike many celebrity scents, it lasts a long time on the skin.
According to Sarah, this perfume is appropriate for all ages; "from 17 to 107". More info can be found on my fragrance review Lovely by Sarah Jessica Parker.
Gold Rush by Paris Hilton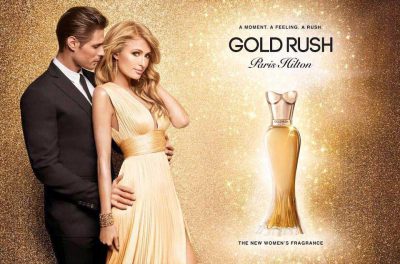 With 20 fragrances to her name, Gold Rush is her newest and it's a winner. Released in July 2016, the fragrance is inspired by " the captivating beauty of old Hollywood glamour…the warmth and radiance of gold and the rush of two hearts colliding."
A bright and sensuous floral, it starts out with a fresh and fruity wave and ends with a warm base of praline, vanilla and cashmere wood. There's also a peachy note that really shines somewhere in the middle.
Some of her earlier scents are very likable (Dazzle and Tease especially) but Gold Rush seems more mature and elegant.
Glow by JLo
Bright citrus and sheer floral notes combine with vanilla and musk to create a fresh, clean yet sexy scent.
Although the scent is fairly long lasting, it could also be layered with a clean smelling lotion.  There is a light powdery note here also which isn't at all overwhelming.
Jennifer Aniston by Jennifer Aniston
This is a wonderful scent that reminds me of relaxing beach vacation. Apparently Jennifer was inspired by her childhood in California while creating this and there's no missing the oceanic vibe. Even the bottle resembles the waves of the Pacific.
Jennifer Aniston can be best described as an aquatic perfume with notes of violet, sandalwood, jasmine and amber.
Agree? Disagree? Do you have a celebrity fragrance you love or hate? I welcome your comments:)
Until the next time,