Summer's in the air, baby! It's that time when we're supposed to feel refreshed and rejuvenated. We're bombarded by endless ads of gorgeous women sitting poolside along the Amalfi Coast or indulging in prosecco served by impossibly gorgeous hunks.
Need a perfume that will instantly transport you to an idyllic beach even if you are stuck at your desk in an air conditioned office or trying to keep your sanity with rambunctious toddlers screeching underfoot? If you  start to feel the summer blues coming on, fret not. Remember this: A smooth sea never made a skilled mermaid.
If you can't join 'em, you can smell like 'em.
Here are a few easy, breezy scents that'll help you kick back, say yes to the bikini and enjoy a summer escape in a bottle:
Narciso Rodriguez Fleur Musc for Her – Musk for summer? You betcha! The bright pink bottle captures the vibrant spirit of this floral bouquet of pink flowers enhanced by pink peppercorns, rare musk and woody amber. Perfect for getting ready to play in the sun. One spritz and it's GAME ON.
 A 3.3 oz bottle is around $80.

Tilly by Rosie Jane – I fell for James, also by Rosie Jane, last winter and just discovered the more lighthearted and summery Tilly. Notes of pineapple and coconut suggest a festive tropical cocktail while grapefruit and a hint of sea spray rescue it from becoming unbearably sweet. Guaranteed to make you sparkle, not sweat.  A 1.7 oz bottle is around $48.
SaveSave
Sisley Paris Izia Eau de Parfum – Peppery citrus and jammy fruits and a big dose of crisp and soapy aldehydes lend a bright and fun vibe but it's the rose, amber and musk that make it interesting. Cowabunga! This unique and lovely floral reminds me of a beautiful sunset after a perfect summer day. A 1.7 oz bottle is around $125.
Clean Sunkissed Skin – Inspired by a relaxing yet invigorating day at the beach. Imagine daydreaming in the sun while watching the waves breaking against the rocks. A light and happy scent, this contains notes of lotus, melon, coconut, dew drop and vanilla. A 2.5 oz bottle is around $40.
Philosophy Pure Grace Summer Surf – A laid back scent, this limited edition fragrance captures the spirit of a carefree summer day. Imagine your toes deep in the sand as blue-green waves roll in to wash your worries away. This new perfume builds on the summer theme of Pure Grace Summer 2016 and highlights summer refreshment with a blend of exotic tiara flowers, sea water accords, wet wood and sensual musk. A 2 oz bottle is around $48.
Bond No. 9 Shelter
 Island –  Part of the collection from the iconic brand who's made its name by creating scents for specific NYC neighborhoods, this is my favorite of the beach bunch. A bold unisex scent, it smells of citrus zest, black pepper, white lilies, algae extract, sandalwood, amber, myrrh, musk and  exotic oud. It's a daring and exotic fragrance that seems to go in several directions – citrus, spicy, aquatic and sweet.
Atelier Cologne Clementine California – After an initial sun-drenched and juicy mix of clementine and mandarin, this starts to turn deliciously green with notes of  juniper, basil and vetiver. Spicy Szechuan pepper adds the heat and sandalwood and cypress provide a woody base. There is something magical and undefined about this scent, like an image reflected in rippling water. A 3.3 oz bottle is $130.
For more ideas on great summer perfumes, check out my previous blog – Tropical Breezes and Blowing Palm Trees: Best Beachy Scents.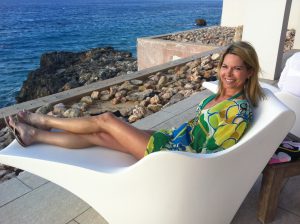 Enjoy these as long as you can because it won't be long before summer collapses into fall. Make every summer day and night a scent-sational one that you can store in your memory bank for long after it's over.
Wishing you sandy toes and salty kisses,

SaveSave
SaveSave
SaveSave
SaveSave
SaveSave
SaveSave
SaveSave
SaveSave
SaveSave
SaveSave
SaveSave
SaveSave
SaveSave
SaveSave
SaveSave
SaveSave