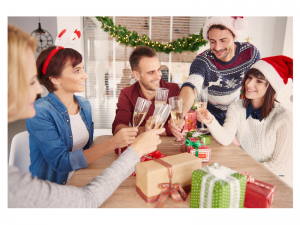 'Tis the season of gift-giving and for some of us, that includes playing Secret Santa. Being in a Secret Santa gift exchange sounds like it should be pretty easy. Get something inexpensive, appropriate for the holiday season and not too personal. The problem comes in finding the appropriate gift for acquaintances or co-workers that isn't boring or generic but is thoughtful and has a bit of personality and style. In short, a gift that they will actually appreciate and you can avoid the awkwardness that will surely follow if you select something that they truly hate.
Before you begin the Secret Santa adventure, make sure you know the rules for the exchange and if there is a set dollar amount limit, try to stick with it. Going way over the price limit with your gift will only make you extremely unpopular. If you don't know much about your gift recipient or their interests, try to do some sleuthing if possible. You wouldn't want to give a bottle of wine to a recovering alcoholic, for example, or a scented candle to someone who's highly allergic. Doing some research will make someone's day if you choose something perfect for them instead of a generic gift or, even worse, something that looks suspiciously like a re-gifted item.
Above all, Secret Santa gift exchanges are meant to be fun so don't take it too seriously! If all goes well, it should be enjoyed by both the giver and the receiver.
Here are 20 gift suggestions that would be appropriate for an office exchange or an exchange among friends and all are under $25:
Ambielly Drink Coasters (Set of 10) $14.99

These pretty,  Bohemian patterned fabric coasters are great for holiday entertaining
. Their larger size (5.12″ diameter) will easily fit any large mugs or water bottles.
Travel Navigator RFID-Blocking Leather Passport Holder & Travel Wallet $24.97
                                                                                                Made with 100% genuine leather, this wallet can hold a passort, ID slot, 6 card slots, 2 large slip pockets, plus currency compartment. The RFID-blocking lining will help to take some of the stress out of travel.
EvZinc Vintage Retro Leather Cover Notebook Journal $8.99 
This attractive faux leather journal is right up there in quality. The embossed compass on the front and anchor pendant on the side give it a travel journal vibe.
Anker Astro E1 5200mah Portable Charger $15.99
This compact charger is the size of a small candy bar and can add 1-2 full charges
on your iPhone, Android device or iPad mini. Comes with an 18-month guarantee.
Symphonized NRG Premium Genuine wood In Ear Noise Isolating Headphones $25
Handcrafted from real wood, these noise-isolating headphones deliver powerful sound and strong deep bass.
Bath Bombs Gift Set $18.97

Made from essential oil aromatherapy blends, cocoa butter and shea butter, these will leave their skin hydrated and soft without trashing their tub. No dies or colors used. The set includes: Relaxation (Lavender), Detox (Vanilla), Energize (Grapefruit), Destress, Sinus (Peppermint), Congestion Relief (Eucalyptus).
F.E.D Stainless Steel Milk Frother, Mixer, and Latte Maker $15.99

This high quality whisk not only does drinks like cappuccinos, macchiatos, not chocolate, mistos and matcha but is also suitable for mixing protein shakes, salad dressings and whisking eggs. Requires 2 AA batteries, not included.
BlueDot Trading Dictionary Book Safe $15.49
Large book titled "The New English Dictionary" with hidden safe enveloped in faux pages. Comes with 2 keys for access to steel safe. Also comes in medium ($11.44) and small ($8.89) and colors of blue, black, brown, green and red.
Bath & Body Works Ultra Shea Cream Twisted Peppermint $12.72
Cool peppermint with a whimsical twist of sugar and vanilla will brighten up the season even more. Makes the skin feel moisturized and magically tingly.
GreatShield Touch Screen Warm Unisex Gloves $19.99
Comfortable, cozy gloves that keep hands toasty warm and stretch to fit nearly all hand sizes. Works great with smartphones, tablets, iPods, digital cameras and eBook readers.

MIER Barrel Travel Sports Bag $19.55
This small bag is appropriate for the gym, travel, camping or week-end adventures. the separate compartment for shoes is a plus.

Fitness Master Infuser Bottle $7.97
We all know we need to drink more water but most of us don't because water is, well boring and tasteless. This 32 oz. fruit and herbal infuser water bottle allows you to hydrate or detox your body your way. Just 2 bottles a day meet the recommended water intake.

Jack Black Intense Lip Therapy Balm SPF 25 $10
This is hands down the best lip therapy around for the colder temperatures when lips tend to get chapped and dry. Comes in 4 flavors: Natural Mint and Shea Butter, Black Tea and Blackberry, Grapefruit & Ginger and Shea Butter & Vitamin E. Get one or splurge and purchase The Balm Squad Gift Set which includes all four flavors for $25.
Pointexa Personalized Luggage Tags $6.99                        This set of two vintage looking tags would look great on a man or woman's bag. You'll probably end up buying more for yourself after seeing them.

Malden International Designs Wood Picture Frame $9
Classic elegance picture frame which holds a 5″x7″ picture. If you can manage to obtain a special photo of your recipient beforehand better yet!

Contigo Autoseal Insulated Travel Mug $15.99
Well designed lid pivots open for easy cleaning and the lid-lock prevents the auto seal button from accidentally being pushed while on the go on this stainless steel 16 oz. mug. Keeps hot beverages hot for up to 5 hours and cold for up to 12 hours.
ArtNaturals Himalayan Salt Scrub $13.26
A welcome and super smooth fix for even the toughest challenges, this soothing and healing medicinal sea salt scrub hits the mark. ArtNaturals is a cruelty free company that stands behind its products with 100% satisfaction guarantee or your money back.

KoalaReef Cheese Board and Cutlery Set $17.98
Cleverly designed as a natural bamboo board for serving and a slide out board that stores the stainless steel cheese tools. Cheese utensils include a knife, spreader, shaver and fork.

Lamicall Desktop Cell Phone Stand $9.99
A shining silver aluminum iPhone stand, this will work perfectly for desks or tables. The rubber pads and feet of the phone stand will protect their device from scratches and sliding.

Trader Jo Gourmet Salt & Pepper Set $24.99
This set comes with 3 types of salt (Himalayan Pink Salt Crystals, Sea Salt Crystals, Garlic sea salt) and 3 types of pepper (Black Peppercorns, Rainbow Peppercorns, Lemon Pepper Seasoning Blend). The bottles come with built in grinders.

Hope this helps you in your Secret Santa shopping. Please let me know if any of these work out for you!