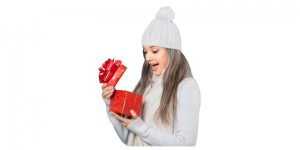 Fragrance gift sets are like icing on the cake…a lavish addition to an already wonderful treat. Many include fantastic extras like shower gel or body lotion so she'll be able to go to town with layering her favorite scent. Better yet, most come in elegant boxes or cute tins so wrapping is optional! Year after year, perfume gift sets for women make perfect presents for the lucky female who adores fragrance.
Any of these gift-worthy choices will do the trick… 
Penhaligons Empressa Collection– Penhaligon's best selling women's fragrance, Empressa, celebrates women of beauty, power and influence. An intoxicating blend of exotic spice and lustrous florals, this ultra-feminine fragrance is a great introduction to this plush British brand. The collection includes a 3.4 oz.  Eau de Toilette Spray and a 3.4 oz. body cream. $145


Tom Ford Black Orchid Gift Set -This luxurious scent of sultry woods and rich fruit accords comes in a jet black, Art-Deco inspired bottle. The set includes a 1.7 oz. Eau de Parfum Spray, a 2.5 oz. Hydrating Emulsion, and a .20 oz. Eau de Parfum Rollerball and comes housed in a elegant gold tone box. $150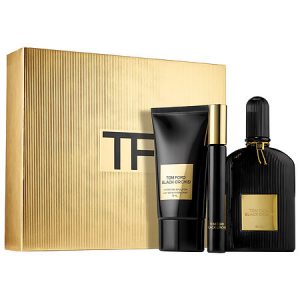 Chloe New Perfume By Chloe Gift Set – A captivating scent of fresh smooth floral notes and velvety elegance, this set includes a 2.5 oz. Eau de Parfum Spray, a 3.4 oz. body lotion and a .17 oz. mini. $125


Gucci Bamboo Gift Set – Taking inspiration from the symbolism of strength and elegance, the Gucci Bamboo gift set is a modern interpretation of one of Gucci's most recognizable icons: the Bamboo. The modern Gucci woman shares Bamboo's characteristics of confidence and grace. Soft yet intense, the fragrance exudes power and femininity. The set contains 1.6 oz. Eau de Parfym Spray, 1.6 oz. perfumed body lotion and .25 oz. Eau de Parfum rollerball. $99 ($141 value)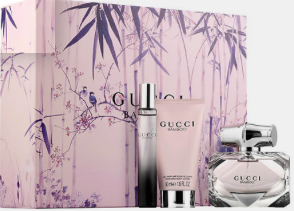 Philosophy Amazing Grace Gift Set – Amazing Grace for women is a soft, feminine fragrance filled with light floral notes and accented by a touch of musk. Bergamot greets the senses along with calming notes of muguet blossoms. Philosophy's Amazing Grace indulgences are good for the body and soul. The set contains 8 oz. Shampoo, Bath and Shower Gel, 2 oz. Eau de Toilet Spray and 4 oz. whipped body creme. $57 ($82 value)

Maison Marginal Replica Gift Set – This layering set from Maison Margiela includes two best-selling rollerballs along with a full-size of its exquisite Beach Walk fragrance. Beach Walk evokes the familiar moment of a walk along a sandy beach with its fresh and radiant notes of bergamot, coconut milk, lemon, pink pepper and musk. Lazy Sunday Morning is reminiscent of that sun-drenched week-end morning of relaxation with notes of lily of the valley, patchouli, iris and white musk. This set includes 3.4 oz. Beach Walk Eau de Toilette, .34 oz. Beach Walk Eau de Toilette Rollerball and .34 oz. Lazy Sunday Morning Eau de Toilette Rollerball. $150 ($175 value)


Miu Miu Perfume Gift Set – Miu Miu begins with an elegant lily of the valley, jasmine, rose absolute and green notes which is set against a background of earthy notes of woods and pepper. Like the fragrance itself, the bottle is a contradiction in terms. The sensual soft blue-pillowed bottle with a white matte collar is both tradition and pop. The translucent red disk adds a playful quality. This set includes 1.7 oz. Eau de Parfum and 3.4 oz. body lotion. $97 ($112 value)


Marc Jacobs Decadence Gift Set – A sumptuous and woody fragrance, Decadence is opulent and surprising. The fragrance opens with sensuous top notes of Italian plum, iris and saffron and leads to luxurious heart notes of jasmine sambac, Bulgarian rose and orris. The dry down harbors notes of vetiver, woods and amber. The overall vibe is luxurious self-indulgence. This set includes 3.4 oz. Eau de Toilette Spray, 2.5 oz. body lotion and .33 oz. Rollerball. $128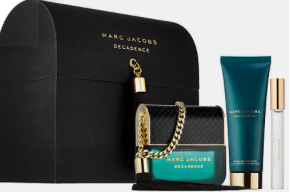 Hermes Garden Collection Coffret Set – Discover the exotic side of Hermes with this set of four travel-size scents inspired by gardens from around the world. Un Jardin en Mediterranee embodies a secret garden inspired by warm and sensuous notes. Un Jardin sur le Nil is a stroll along the Nile River capturing green, mouth-watering and tangy notes. Un Jardin sur le Toit describes an apple tree, a pear tree and a magnolia hidden in a secret garden in the heart of Paris. Le Jardin de Monsieur Li is an imaginary Chinese garden capturing the smell of jasmine, wet stones, plum trees, kumquats and giant bamboos. $50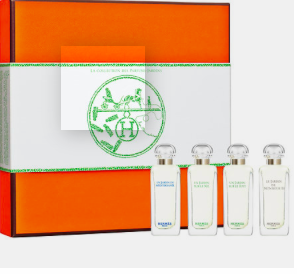 Although no Black Friday sales have been released yet I'm hopeful that maybe, just maybe, some of these may be reduced even further.
Until the next time,