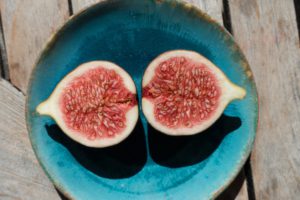 The end of February often has me feeling  especially "blah". I find myself craving comfort scents (often featuring vanilla or fig perfumes) along with comfort foods (mac & cheese I'm lookin' at ya!). Blankets are also prescribed around this time to up the coziness level and the more, the merrier. Yes, even my blankets have blankets.  Anything  to get me through this bitterly cold season until spring touches down.
The scent of fig is marvelous and quite unique. The fruit smells juicy, indulgent and syrupy and has a mild aroma. Figs last only about a week after harvest, so most fig sold is dried, which has a much sweeter scent. Fig leaves have a sharp, almost bitter, aroma.
Figs have been around since the beginning of time. Adam and Eve were said to have clothed themselves in fig leaves after their fall from grace so it's safe to assume they go back to the Garden of Eden. Originally grown in the warm, semi-arid climate of the Mediterranean, they eventually arrived in California when Spanish missionaries began planting them in San Diego in the mid-1700s. Today almost all commercially grown figs in the US are still from California.
My love for most things fig-related can be traced back to my childhood growing up in Santa Barbara, CA. The Morton Bay Fig Tree, located near the Amtrak train station and across the street from the beach, towers at 80 feet high and is a magnificent sight to behold. It's also within view of Sambos restaurant which was hands down my favorite breakfast spot way back then. I still go there from time to time when visiting Santa Barbara not so much for the food but the nostalgia factor. Scent and memory, as we all know, are intimately connected.
Fig perfumes come in many varieties. They can smell juicy, wild, fresh, creamy; the list goes on and on. The perfumer can go in many different directions depending on what aspect he chooses to highlight. Although fig is technically a fruit, not too many fig perfumes smell especially fruity. Most of the one's I've tried smell either woody (sandalwood or cedar are frequently featured) or green (crisp and sharp leaves). Vanilla can be paired with fig to emphasize fig's sweetness and coconut to lend a creaminess.  Another popular variation is fig paired with citrus or salty sea air to give the perfume a Mediterranean vibe.
There are many perfumes that feature fig as a note but they don't properly count as a fig perfume unless fig is a major player in the production. If you think that would would make fig perfumes a short list you'd be wrong. It seems that many are drawn to perfumes – and also candles – that feature aromas based on what's often called the "fruit of the gods".
These are a few figgy scents that I've had the pleasure of getting to know and don't want to keep myself.
Let's jump in:
Demeter Fig Leaf – One of Demeter Fragrance Library's 300 plus scents, Fig Leaf is green fig leaf plus sandalwood. If you're just starting your fig journey, you might want to start here. A straight-forward green fig leaf plus sandalwood, I wouldn't call it great but it's pretty good. It's also affordable enough to use as a room scent which is my MO with Demeter fragrances. Retail  $20 at Demeter Fragrance Library.
Kilian Adults – This is a warm and sweet gourmand scent. Featuring notes of fig milk, cedarwood and vanilla, it's sexy and sensual. To me it smells slightly masculine and has a vaguely mysterious aroma without getting too weird. The only drawback is that it doesn't last long on my skin. After reading reviews post on Sephora's website, many call it a long-lasting scent so go figure. Retail $135 at Sephora.
Comptoir Sud Pacifique Coco Figue – If you want to go even sweeter, you really can't go wrong with this one. It's a super-sweet, jammy fig with enough of coconut to almost put it in the tanning lotion category. Retail $42 at Sephora.
Pinrose Treehouse Royal  – Pinrose puts another slant on its fig juice with notes of cassis and pear. I talked more about the newish brand here. Treehouse Royal doesn't go over-the-top fruity though, thanks to a jasmine heart and vanilla, vetiver and moss base notes. Retail $39 at Pinrose.
Fresh Fig Apricot – As a general rule, I steer clear of any perfume containing apricot notes. They usually make me gag ? but here it somehow works. Fig Apricot is perfect for brightening a dreary mood and clearing away cobwebs. It smells more like peach than apricot to me but whatever .It smells delicious. The fig note here is  a subtle green leaf. White musk, green tea and marine notes add warmth, zen and freshness. Retail $90 at Fresh.
Pacifica Mediterranean Fig – A natural, green and slightly woody/spicy perfume, there's no hiding the fig although it's a slightly underripe one. If you're sniffing for it there's a touch of clove here which it probably where the spiciness comes from. I discovered it a while back at Whole Foods believe it or not.  It seems to have been discontinued but can be purchased on Amazon for around $90 (eek!, way more than the $22 other Pacifica perfumes usually sell for) Rollerball and solid perfume can be purchased on eBay in the $15-$30 range. 
Diptyque Philosykos – If you've even delved a little into fig perfumes you probably already know about this one. Philosykos and L'Artesan Premier Figier, which both launched in the 90's, are the creations who put the mighty fig on the perfume map. Sadly, Premier Figier didn't do it for me but Philosykos and I bonded immediately. I've been wearing the solid version lately and love the fact that I can just throw it in a bag and go. The  metal packaging makes it  surprisingly heavy for such a teeny tiny thing (-) but it's oil based so double duties as a hand cream (+++). I reviewed it here. Retail $98 at Nordstrom. The solid perfume retails for $60 at Diptyque.
Diana Vreeland Staggeringly Beautiful –  The perfume line named after late Vogue editor Diana Vreeland released this figgy scent last summer.  Bold and vivacious, this ambitiously named fragrance takes no prisoners. The fig here is fig in its entirety – earthy leaves and deliciously ripe fruit – along with Sicilian bergamot and daffodil. This is one red-carpet divalicous perfume that commands attention.  Don't bother if you're looking for a subtle, comforting fig frag. Retail $250 at Neiman Marcus.
By Rosie Jane James – This has way too many names in it I know . I discovered the brand on a perfume tasting in Calfornia a couple of years ago and fell madly in love with James. I mentioned  it here. If you are a gardenia fanatic like me who's always open to different variations then you might love this. It's a magical mix of both. Retail $65 at By Rosie Jane.
Although I hate picking favorites, my current top two are Philosykos and James ? But you already could tell, right?
What about you – what are your most fortifying fig scents? Do you wear wear them solo or layered with other perfumes?  
If you're not quite ready for fig perfume but love the scent of fig wafting through your home, try getting cozy with these fig scented candles. Time to get your hygge on!
Cheers!