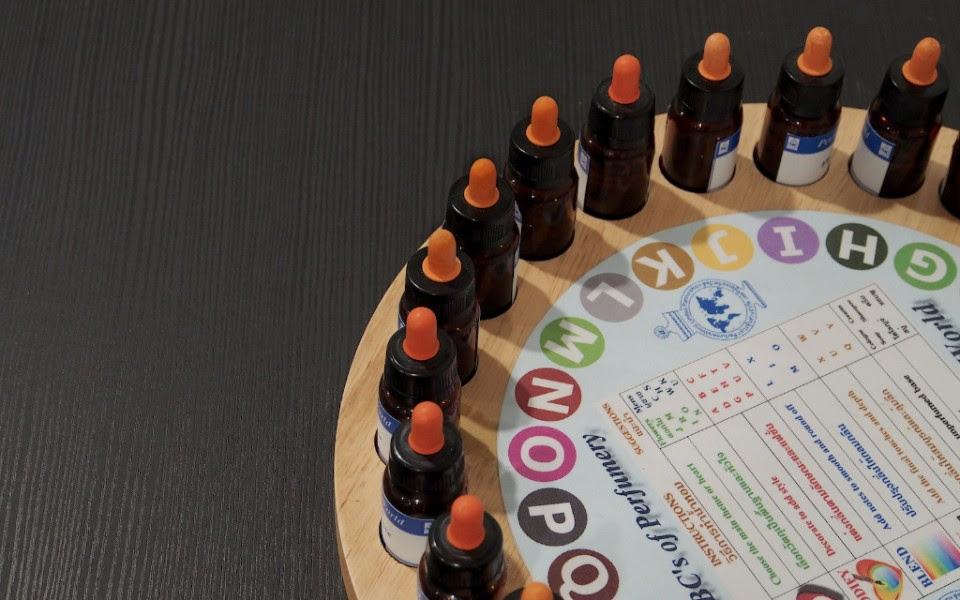 Ever since I attended a beginner's guided blending class at LA's Institute for Art & Olfaction I've been ready to be yanked further down the rabbit hole of perfume-making and all it entails.  So, when I heard rave reviews about the one-week workshop The Art & Technology of Perfumery offered by the Perfumer's Studio in Hollywood, CA I quickly signed up online and booked my flight out.
Hollywood here I come!
I arrived early Monday morning to the spacious (4,000 square foot) studio and was warmly greeted by Stephen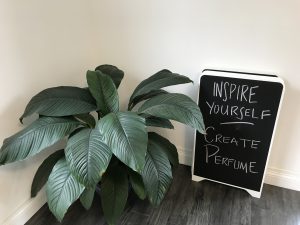 Dowthwaite, founder and course leader, who showed me in and offered a short tour of of the premises. Two of my six classmates were already there and we slipped into easy conversation, safe in the knowledge that we were fellow scent addicts.
The morning started out with a brief round of intros and we were asked to describe what perfume meant to each of us. The replies were numerous but some of the words I recall were: self-expression, communication, ephemeral, personality, memories, collectable and journey. I sensed early on that Steve was not only extremely knowledgeable (a perfumer with over 40 years in the industry) but was also an incredible teacher with the patience of a saint.
The next few hours whizzed by and at the end of the first morning session, Steve announced that by the end of the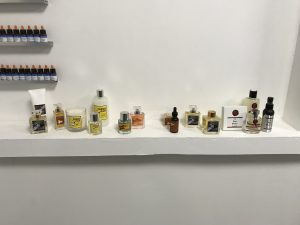 week we would have all of the information needed to become a perfumer. I should also mention that we had already established that becoming a perfumer takes years, even a lifetime. None of us were under any delusions about this being a piece of cake.
Lunch was tasty and quick at nearby Wanderlust, the yoga studio next door, which has amazing soups (especially the bone broth) and delicious salads. Then back to it!
The afternoon was spent covering safety tips and mixing instructions. We were also given the opportunity to smell some of the various ingredients used in perfume: natural essential oils and extracts (Lavender Oil and Jasmin Absolute), aroma chemicals (pinene and benzene) and animal products (Castoreum from the Castoreum beaver, Musk from the Musk deer, Ambergris from the Sperm Whale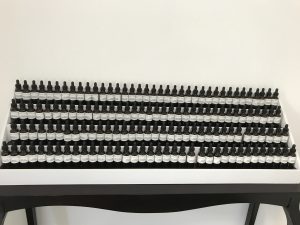 and Beeswax from bee hives). My nose was firing on all cylinders and depending on what was being sampled, I was repulsed, excited, intrigued or delighted and often a combination of these.
After a couple of hours of this we took a short coffee break to stretch and give our noses a much needed respite. Yummy cookies were served as a surprise afternoon perk during the week.
After that came the challenge of actually creating a perfume based on each of our separate assignments (no cheating here!) This floral loving girl was given the task of creating a fresh cologne (of course). I think I came fairly close although if you were being less than charitable you might say it smelled, well, like fresh dirt. 
Before we staggered out at 6:30 PM that day (and most days to follow), we were given 3 homework assignments: 1)Read the Intro book, a 40-page book called the ABC's of Perfumery, 2)Smell 6 things and be prepared to describe them and 3) Play around with the Perfumer's World thumb drive Stephen had handed out. I spent most of the night reading the ABC's book and trying to learn my perfume alphabet. The book is based on the concept of 26 letters to represent the primary notes in fragrance. Some are simple: C is for citrus, J is for jasmine, R is for rose though others took more time to grasp: A is for Alifatic, T is for Tar 'n Smoke, etc.
Now back in New York, I'm still working my way through the info included in the software we were given, which contains lots of amazing tools, all highly useful for anyone wanting to create their own perfume.
The rest of the week went along a similar format: lecture and related video in the morning, lunch, discussion and scent experimentation in the afternoon. Sampling the full range of these intoxicating scents on paper strips was an activity that never got old; if anything we became more scent obsessed as the week went on. Only one headache was reported and luckily no allergic reactions.
We learned about the relative impact of a scent as well as its odor life, all which are factored into the creation of perfume. There was a significant amount of attention spent in explaining the importance of defining an objective when creating a new fragrance and how to build a perfume using the materials function in a formula (heart, modifiers, blenders and fixatives). My head is still spinning.
One exercise I found especially challenging was when we were asked to "feel" a scent, something which apparently
comes naturally to a small percentage of the population (2-5%) born with synaesthesia. We were asked to quickly blurt out our responses to a variety of different aromas that were passed around in terms of what color, sound, shape, texture, feeling and image it produced. There were quite a few blanks for me with some of them. If you think this sounds easy, try it.
Mid-week we engaged in a group exercise which involved creating a fragrance representing Vincent van Gogh's
painting "The Starry Night". My partner and I were assigned the "celestial" element (i.e. sparkly and bright). Once all of the groups were satisfied with their creations we blended them together. I think the end result was pretty close to getting it right!
Christopher Gordon, the other scent sherpa who helps run the studio, was mostly busy in the laboratory but popped in from time to time add his wit and wisdom on whatever topic was being discussed. It was from Chris that we learned the legend of the creation and ultimate demise  of the rare and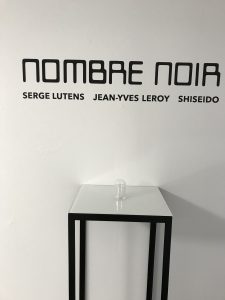 elusive Nombre Noir. Fact or fiction, it's worth hearing. We even got to smell it (several times for me, in fact every time I walked by the bottle).
If I had to pick a highlight from the workshop, it was when we were given the challenge of creating our own perfume. There were no guidelines, rules or restrictions on the materials from the hundreds in the studio. We were nearing the end of the course and we were able to put what we'd learned into practice. It wasn't entirely a solo activity since we were able to ask for opinions along the way, but this was pretty much our own  baby. Exciting stuff! I'm happy to say that I am still loving my creation 5 days later:)
Since the workshop had a pretty intense schedule, I was only able manage 2 other scent adventures while I was in LA. The first was to Panpipes Magickal Marketplace, which one of my fragrance class cohorts had been dying to visit. Panpipes is LA's oldest apothecary and go-to spot for crystals, candles, resins and essential oils. They also carry some pretty great books if you're interested in casting a spell on someone, which isn't really my thing in case you were wondering.
On the second to last day of class I uberered it on my lunch break to Candle Delirium, arguably one the best candle shops
in the country. I've ordered candles from them online and have been impressed with their extensive collection at various price points. The store is amazing and the staff was super welcoming without being at all pushy.  You should definitely stop in if you want to get lost in a candle and home fragrance wonderland.
Getting back to the Art & Technology of Perfumery workshop, I'd highly recommend it for anyone serious about getting schooled in perfume-making. It's appropriate for both hobbyist and professional perfumers and you will find what you are looking to learn. Be prepared to awaken your senses. If you're willing to spend the time and money and learn the ABC's, you will be well on your way to creating a great perfume.
Until the next time,
SaveSave
SaveSave
SaveSave
SaveSave
SaveSave
SaveSave
SaveSave
SaveSave
SaveSave
SaveSave
SaveSave
SaveSave
SaveSave
SaveSave
SaveSave
SaveSave
SaveSave
SaveSave
SaveSave
SaveSave