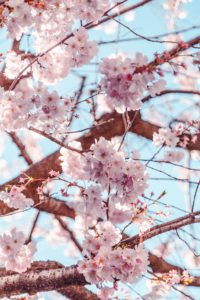 We have two cherry blossom trees in front of the walk-way to our home. They look very nondescript most of the year and borderline ugly during the winter. The reason I love them so much is that every year in April the flowers blossom into the most breathtakingly gorgeous fluffy white petals with a pink hue. Sadly, their beauty is short-lived since the petals fall off within a couple of weeks, often sooner.
This year our trees bloomed exactly a week ago. From the looks of them today, they'll be gone in a day or two.
Most cherry blossoms don't have a detectable scent and ours certainly don't. It's a case of looks being everything with cherry blossoms. The rare ones that do have a scent are described as exuding a fragrance with faint lilac and rose qualities, as well as creamy vanilla and almond notes.
Cherry blossom season is celebrated throughout the world and here in the Northeast region of the US the most popular celebrations occur in Washington DC, Boston and Brooklyn. But nowhere in the world takes the cherry blossom more seriously than in Japan. In Japan, the event of "sakura" (when blossoms are in full bloom) means that businesses alter their hours to give people the chance to appreciate "hanami" (the viewing of the flowers).
The Japanese view sakura as the embodiment of beauty and mortality. Tied to Buddist themes of mortality, mindfulness and living in the present, Japanese cherry blossoms are a metaphor for human existence. The tragically short-lived life of the cherry blossom reminds us that our lives are short too and it's time to pay attention.
Early scripture suggests that the tradition started in Japan centuries ago with emperors and members of the Imperial Palace. Now more than 300 varieties of sakura exist in Japan due to centuries of hybridization.
There are so many perfumes based around this fantasy scent. The interpretations of these other-worldly flowers run the full gamut, as you'd expect from a conceptual floral aroma. It's really fascinating how many different ways there are to capture the essence of sakura and the various renderings of its natural allure.
Online encyclopedia and magazine of perfumes Fragrantica lists more than 150 different cherry blossom fragrances. Many I haven't yet tried but one I came across a couple of years ago was Shiseido Ever Bloom. It was a little too juicy and sour cherry smelling for me so no thanks. Another one I remember trying was Kenzo Amour, a soft creamy vanilla perfume that's a little powdery. It's a tender comfort scent that might be most appreciated by someone who likes safe and nondescript perfumes. But once again, not so much for me.
 An especially captivating cherry blossom perfume is ALTAIA Don't Cry For Me. I discovered it a couple of years ago when visiting Beautyhabit in Westlake Village, CA and fell in love. It's a gorgeous scent with an incredible mix of heady jasmine, sweet cherry blossom, powdery heliotrope and soft musk that has a dreamlike, nostalgic vibe. Woods and amber notes in the base keep it from floating away too quickly. I left the shop with a small vial that's long been empty but just thinking about it now is practically giving me withdrawal symptoms. I raved more about the perfume here. 
The Body Shop Japanese Cherry Blossom is another sakura scent that is very wearable at a fraction of the cost. Although I adore the ALTAIA perfume it's hard to justify paying $210 a bottle. The Body Shop scent at $28 is a steal. You could even get the body lotion, shower gel and fragrance mist and come out way ahead. It's (quite) inexpensive but doesn't smell cheap.
 Another cherry blossom perfume that screams "Spring has arrived!" is L'Occitane Fleurs de Cerisier. L'Occitane has launched many versions of cherry blossom scents and this is my favorite in the line. It contains lovely lemon and melon notes which make the floral aspect less central. It reminds me a little of Elizabeth Arden Green Tee Cherry Blossom with the citrus aspect but in the EA scent has a soggy tea bag vibe to me.
That's all for now folks since I'm off to start making dinner. Happy Easter to all who celebrate. Let sakura be a reminder to be present in life and appreciate every moment.