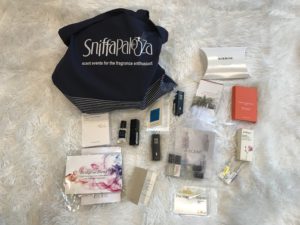 Hello there fragrance lovers,
Last Saturday I had an amazing time at a Sniffapalooza event in NYC. If you've missed my earlier mentions of these fun-filled events organized by perfumistas Karen Dubin and Karen Adams – aka "Team Karen"- you can get a sense about them from reading my previous review here.
You're probably wondering why if it was so incredibly amazing I'm writing about it so much after the fact. Well my friends, life sometimes – and often for me lately – gets in the way. My house just went back on the market and it's been a sh*t show with far too many Home Depot moments all week.
Last minute well pump dying and needing replacing (unexpected $$$ there), two relatively minor but really time-consuming bathroom projects, and cleaning our disgustingly dirty Trex decking. I ended up paying someone to do that and the deck is now so clean that I'll forgive the two long scratch marks I discovered just after I'd paid him. When the mildew starts accumulating again at least the scratches will be less noticeable I've been telling myself.
I went from a high on Saturday to a deep dive with the house stuff. Now that the last of our week-end prospective buyers have departed, I'm back to my happy place thinking about last week-end.  Although I only attended one day, Spring Fling kicked off on Friday night and offered a variety of scent-filled excursions throughout New York City through Sunday evening.
Saturday started out with a morning of perfume discovery at the elegant Bergdorf Goodman. There were curated counter presentations at Guerlain, Diana Vreeland, Tom Ford and Hermes, to name just a few, and we were blessed with the opportunity to sample the latest launches. Seriously, two hours just wasn't enough time to get to even most of them.
From there we sashayed on over to Italian restaurant Mangia for lunch. Over a three-hour lunch, we listened to various presentations from new and established brands. We started with Mark St. Marie from the World in Scents, who gave us the inside scoop about his inspiration and creative process. We learned about his path from idea to shelf for his perfume collection inspired by his hiking around the globe. Other presenters included Hugo Denoyelle (Sourire de France), Miriam Carothers (a perfumery-inspired artist), Hiro Nakayama (Project Felicia), Stephen Dirkes (Euphorium Brooklyn) and Mona Maine de Biran (Kierin NYC).
We all left with a Sniffapalooza Lunch Loot gift bag. The Loot bag is a Sniffapalooza staple and it's always loaded with special treats and samples. You're never too old to get excited about a goody bag, right? ?
From there we headed over to Penhaligon's Rockefeller Center boutique to learn the back-story and rich 147-year heritage of this iconic brand. We heard from their specialists team all about the newest launches in their Portraits collection – The Ingenue Cousin Flora and The Impudent Cousin Matthew – while indulging in something delightfully bubbly. As we walked out of the shop we each were given minis of their new launches.
Feeling slightly buzzed, I ventured a few blocks over to Saks Fifth Avenue's brand-new beauty floor. It's a 32,000 square foot fragrance and beauty playground that must be giving Bergdorf Goodman a run for their money. I was able to sniff at Ormonde Jayne, Serge Lutens, Art Meets Art, D.S. & Durga, Vilhelm Parfumerie, L'Artisan Parfumer, Le Labo and Floriku, pocketing as many samples as I could.
The Beauty Floor at Bloomingdales, which also has been given a major make-over, was the next stop. Atelier Cologne, MEMO Paris, Hermetica, Viktor & Rolf, Ralf Lauren, YSL, Armani, Valentino and Guelain were giving away samples galore of not only perfume but other beauty products as well.
Starting at 6:00 was the Madison Avenue Scent Trek. Popping into an Uber with a couple of other fragrance enthusiasts, we got dropped off at Creed Boutique at Madison and 67thStreet. There Monica Perez-Brandes and Luis Cavallo introduced the limited edition re-release of the iconic Angelique Encens. Additional indulgences were the Aventus Mimosa Bar and chocolate-covered strawberries.
Five blocks up, we entered the sublimely elegant Editions de Parfums Frederic Malle. Greeted at the door by the captivating Diana Tuleuova, we were able to sample the largest collection of the brand outside of Paris. Needless to say, I was in olfactory heaven and I found it tough to leave.
By Killian was my last stop. Blerta Lertamuja allowed us to wrap our noses around the new Love Don't Be Shy Eau Fraiche which was just released last month. In addition to their extensive perfume collection, the shop sells amazing lipstick, jewelry and even lingerie.
At this point it was nearly 8:00 and time to meet some others for dinner. Unfortunately I'd run out of time to make visits to Atelier Cologne, Diptique and Goutal Paris. Not getting into Goutal Paris was the biggest disappointment into since I'd been looking forward to trying the new Etoilee D'Une Nuit and seeing the delightfully charming Director Francois Alessi.
I'm proud of myself that the only purchase I made on Saturday was a lovely perfume by new brand Kierin called 10:00 AM Flirt.  I'll be reviewing it sometime soon so stay tuned!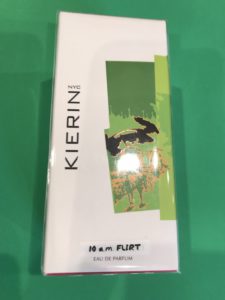 Until the next time,