We are nearing the home stretch of the holiday shopping season. What's probably first and foremost on your mind is getting that perfect gift for those special people on your list. Sure, it can be an overwhelming task to make a good choice. You're not certain of the taste of everyone you want to buy  Christmas presents for but you have to do your best. By gifting them with an assortment of sumptuous perfume minis you are practically guaranteed that there will be at least one or two that they will fall in love with.
I'm firmly convinced that absolutely nobody can resist a miniature size of something exquisite. This year there are more options than ever ranging from Advent Calendars to Discovery Boxes and beyond. They are filled with charming bottles and vials that can easily be popped into a bag without their having to lug around the full-size version. By gifting multiple minis, you offer her/him the opportunity to pick and choose what to fall in love with and profusely thank you for months to come.
You can check out these gorgeous, magical-smelling sets and gift boxes as perfect gift ideas for this Christmas.
Let's ride!
 IDEA #1: ADVENT CALENDERS
L'Occitane Luxury Advent Calendar
Featuring 24 of their best products, L'Occitane's Luxury Advent Calendar is a luxurious way to beautify the countdown to the holidays. A  fun and vibrant design adorns two towers which rotate a full 360 degrees and will brighten up any room. I look forward to L'Occitane's Advent Calendar each year but this one tops them all.  The two perfumes included are Terre de Lumiere and Verbena; the other goodies are a delectable assortment of hand creams, body lotions, shower creams, soaps and shower gels. A number of products containing shea butter are in the mix, which is a great way to moisturize as the temperatures dip. It makes a wonderful gift or treat for yourself.
Price: $124.00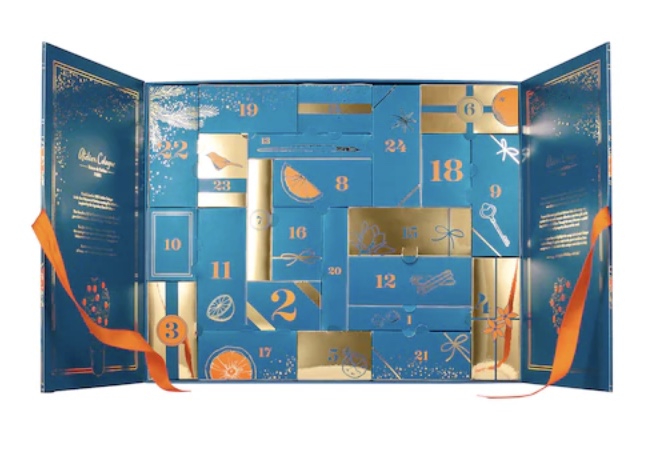 Atelier Cologne Luxury Advent Calendar
This year's iconic blue gift set will put them in a festive mood in no time. The covetable collection  includes the best of the brand's cult fragrances such as Bois Blonds, Orange Absolue and Clementine California. Inside the 24 drawers you'll find a curated assortment of  unisex perfumes as well as top-notch bath and body products to keep them smelling their best while participating in the holiday festivities.
Price: $265
IDEA #2: SCENT DISCOVERY BOXES
The Perfume Society sells a number of wonderful Scent Discovery Box options geared towards different scent palates. Some of the best boxes containing minis currently for sale at perfume society.org include:
New brand Memoize London  is a virtual treasure trove Discovery Set that contains eight amazing unisex fragrances. The brand's name comes from the French word for memories. Each of these scents are designed to bring to the surface your deepest, most intimate thoughts and feelings.
The set has been curated to explore the Seven Deadly Sins. Invidia is said to unearth your desire to want, to have and to be who you want to be. Superbia enhances your self-confidence, and Era just might unlock a hidden passion within you. Luxuria is designed to represent the essence of lust, seduction and intoxication. Gula and Tristia are also said to lead to other unspoken places.
This is a great idea for that person on your list who loves to try out the newest launches. Memoize just came onto the fragrance scene earlier this year and has created quite a buzz in the UK.
Price: £19
The Niche Collection II Discovery Box
Niche perfume lovers will go wild over this discovery box of unique scents. There's a whopping 13 delectable scents from cult niche brands like Amouage and Atkinsons alongside newer brands like Parterre, Stories by Eliza Grace, Memoize, The Modernist and Tom Daxon. Also included are some skin loving treats. Designed to keep their face glowing is award-winning skinSense Anti-Aging Overnight Leave on Mask and Balance Me Super Moisturizing hand cream  to ensure that their hands smell and feel wonderful.
As an added bonus: everyone who buys a box before January 22, 2019 will be entered into a prize draw to win a full-size product from the box!
Price: £19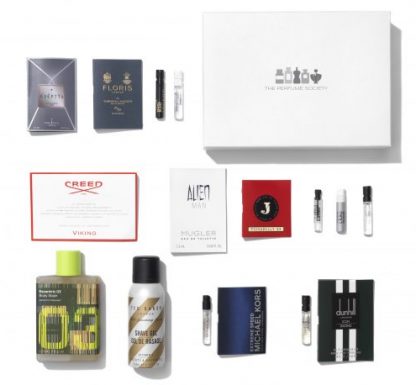 The New Man Discovery Box
This one is perfect for any guy who's stuck in a rut and really needs to get his fragrance game together. Brimming with 13 male-focused scents, he'll enjoy sampling each of these eclectic fragrances. Avoid spending the $400 for a full bottle of Creed Viking (winner of the Fragrance Foundation Best Male Fragrance 2018) and he'll be thrilled with the mini. There's also an extra special treat for the lucky guy! Also included is a FULL-SIZE Esentric Molecules 03 Body Wash. With so many sensational treats any guy will feel like a new + lucky man after opening this box.
Price: £19
And if you want to add a nice touch to any of these very reasonably priced discovery boxes you can throw in a print version of The Perfume Society's The Scented Letter. This glossily beautiful 60-page Jasmine Award-winning magazine celebrates the high points in the fragrance calendar with the very latest news of what's happening in the scented world. Price: £15 
IDEA #3: PERFUME GIFT SETS
AERIN Beauty Fragrance Collection Set
A collection of 5 best-selling AERIN fragrances, including the new Hibiscus Palm scent, are included in this collection which comes in a gift-worthy and very pretty box. The other sumptuous perfumes that are nestled inside the box are Amber Musk, Lilac Path, Mediterranean Honeysuckle and Tangier Vanilla. Full-size bottles of each fragrance start at $125 so the price is right. Plus: There's a GWP that includes deluxe samples of Advanced Night Repair plus two others.  Reward yourself with these for being such a generous and thoughtful gift-giver!
Price: $120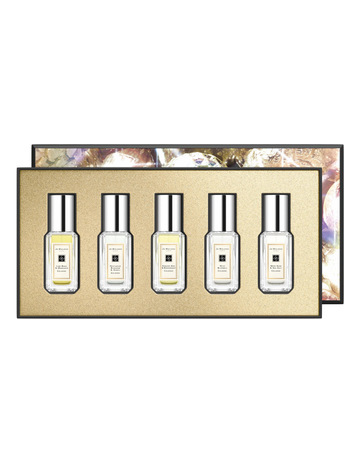 Jo Malone Cologne Collection Set
Since its inception in 1994 – when its founder created a handful of scents revolutionary in their discerning simplicity – Jo Malone London has become synonymous with style. Lovers of their iconic scents know that they can be worn solo or (better yet) for layering. The collection includes 5 of their best loved scents: Lime Basil & Mandarin, Nectarine Blossom & Honey, English Oak & Redcurrant, Wild Bluebell, and Wood Sage & Sea Salt. Perfect for travelers!
Price: $115