If you're someone who loves the idea of wearing a scent that acts as your personal calling card, you are not alone. The problem? Purchasing a customized perfume – one that is created just for you based upon your personal preferences – can easily cost $1,000 and way up.
WAFT To The Rescue!
In recent years, companies like WAFT Personalized Perfume (waft.com) have created an affordable solution. Their Waft Lab is a uniquely interactive experience. It steps you through a series of dynamic questions and imagery designed to establish the core elements of a fragrance that is perfect for you.
Intrigued by the Waft concept, I decided to give it a go. It  seemed a little gimmicky but I figured it was worth a shot.
WAFT founder, Valerie Boffy, hopes that this olfactory journey in creating your own custom fragrance will bring a smile to your face. Their goal: "To bring back the craft of personally commissioned perfume and make it available to you."
The Way WAFT Works
For only $79, WAFT will create a fragrance based upon your online answers to a series of questions. The process begins with type – masculine, unisex or feminine. Next is time of day – whether you want it for day or nighttime. Then follow activities such as sport, social, work or dating. After that's been determined, you'll need to select the mood – fresh, sexy, elegant or relaxed – and personal style – classic or trendy. Finally you'll be asked to select one or more fragrance notes that you enjoy as well as to select a single fragrance from a list as inspiration.
After you submit your preferences, Waft perfumers analyze your answers and craft your very own personalized fragrance.
Voila! Your soon-to-be fav fragrance is "born"!
While not totally impossible, I thought the likelihood of WAFT creating what would become my signature scent seemed farfetched . Still, the questions made me think a little. I happen to wear my favorite perfumes both day and night, although I'm definitely one up for a seasonal switch in my fragrance wardrobe. As far as classic or trendy, I'm somewhere in the middle. In other words, I'm both. Plus I realized something new about myself. All good!
Before paying,  you'll need to come up with a name for your creation.  I chose Montecito which is where I grew up and thought would work for the beachy, relaxed and feminine scent I was shooting for. Shortly after placing my order I thought of a better name but no biggie.
After making the selections and paying for your new fragrance all you need to do is wait for it to be shipped out to you. In addition to the main 1.7 oz bottle of your composition, WAFT also includes two mini rollerballs that will either "relax" the scent or "intensify" it. Layering of fragrances has been around forever but I hadn't seen this exact approach used before. Nice touch WAFT!
My Eagerly Awaited WAFT Perfume Arrival and Verdict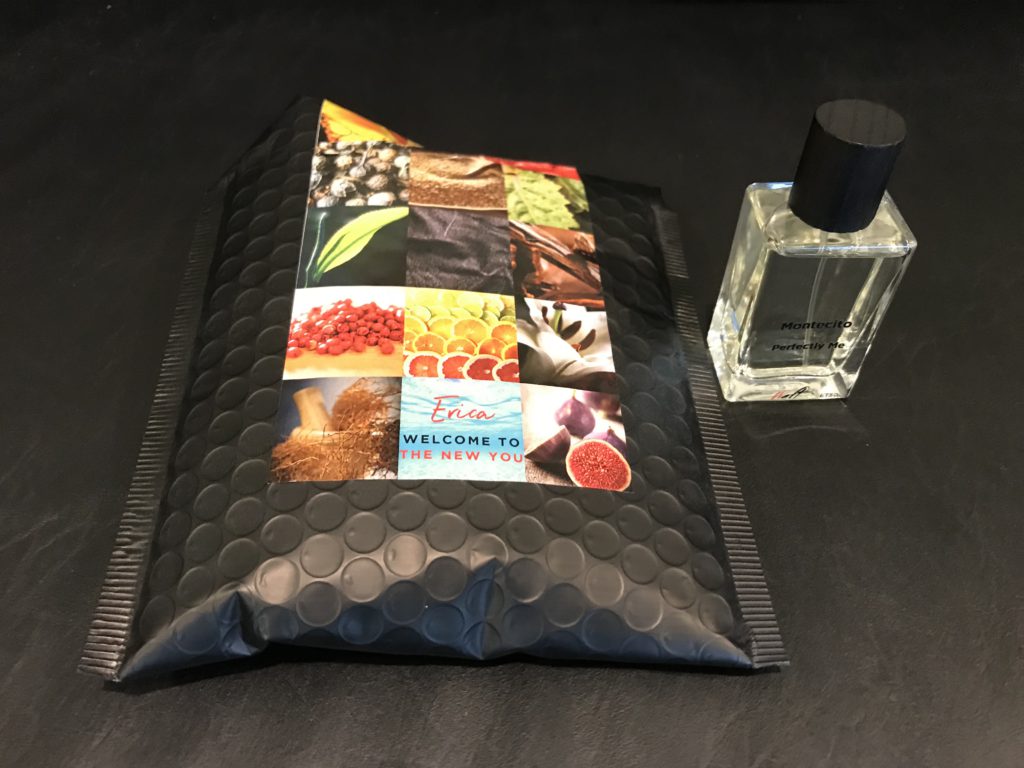 My perfume arrived within a week and was housed in a simple glass bottle with a black wooden cap. The name Montecito was there in black lettering and under it Perfectly Me, which I don't remember asking for so found mildly annoying. The packaging wasn't horrible but it's not a bottle I'd put on display if you know what I mean.
What mattered most to me was the juice inside the bottle. This was where things got interesting. It was as expected a light and fresh floral with a hint of musk. I could definitely smell my beloved jasmine, neroli and  musk but where was gardenia? Gardenia was sadly missing 😔
I can also detect notes of bergamot – to give it the freshness no doubt – vanilla to add sweetness as well as a powdery heliotrope. 
I wish I had written down the exact perfume notes that I'd requested to be included. My bad. Instead I had to play the guessing game which I love to do anyways. That part wasn't really a problem.
After enjoying the scent for the first 5-10 minutes it started to smell slightly chemical and little off on my skin. I wouldn't exactly call it a scrubber but it crossed the line from something I couldn't wait to spritz on me to question mark.
Perfume creation is all about the marrying of materials and creating the right balance but it's also about the quality of the materials.
I found myself wondering what materials were used to make this baby. Since I started creating my own blends a couple of years ago I've discovered that there's a huge difference in the price and quality for perfume materials.
As far as Montecito, I'll never know what exactly was used. Perfumers keep that under wraps for obvious reasons.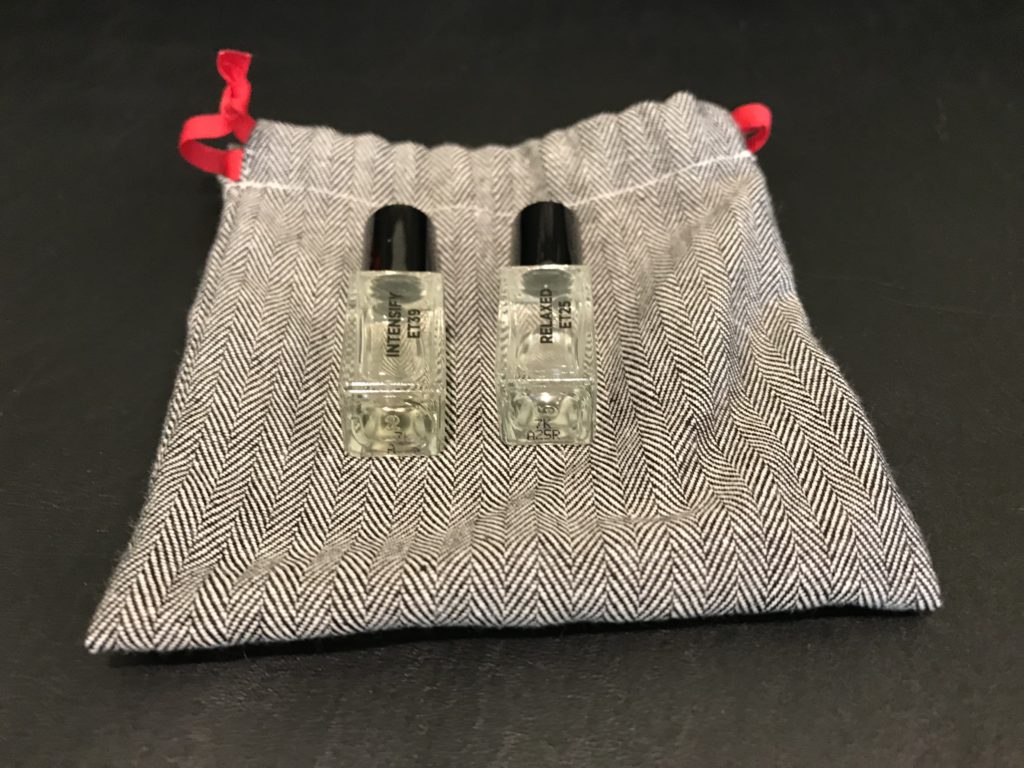 Things turned a corner when I tried Montecito with the "Intensify" layer and "Relaxed" layer. I tried to intensify it first and liked it better. I think "Intensify" had a bit of sandalwood and vetiver in it.  The relaxed version also was an improvement and gave it more of a subdued and refined aroma. There was definitely citrus here plus something I couldn't identify but smelled a little fruity. Weirdly enough, when I both intensified and relaxed Montecito at the same time she was golden! 👍
Final thoughts 
WAFT personalized perfumes is a fun activity. The quick and easy process to create your signature scent and the colorful photos which help to guide you through the process provide inspiration.
The product arrived as scheduled. Updates along the way helped build suspense.
I see WAFT being a great perfume option for someone who's relatively new to perfumery and looking for something reasonably priced with the added bonus of personalization.
So what happens if you don't like your bespoke scent? WAFT is so certain that you'll love it that they offer an iron clad No Questions Asked Money Back Guarantee. If for any reason you aren't satisfied they will arrange to return the order and even pay for the shipping costs
WAFT would also make a fabulous gift idea especially now that the holidays are upon us. Either create and personalize a scent for the recipient ( recommended only if you know their scent preferences really, really well) or better yet send them a gift card and let them go to town with it.  Hopefully they'll love their creation but if not they can't blame you for it!
Check out their website here for more info.
Questions: Have you tried WAFT personalized perfumes? If not is designing your own scent something that sounds intriguing ? Please share!
Until the next time,