Before I went down the rabbit hole and became an unapologetic scent slut, I had only heard of the relatively new fragrance line Byredo Parfums. 
First, a little history for the those who aren't familiar with this addictive niche perfume brand…
Byredo Perfumes (short for "By Redolent") was founded in 2006 by Ben Gorham. A native Swede who was born to an Indian mother and a Canadian father, Ben grew up in Toronto, New York and Stockholm. I've read that he was intrigued by scent and memory after traveling to his mother's hometown outside Mumbai, India, where he was captivated by the aromas of spices and incense. He graduated from the Stockholm Art School with a degree in Fine Arts but a random meeting with master perfumer Pierre Wulff  convinced him that he'd rather create perfumes than paintings.
At 31 years old and with no former training in perfumery, Ben collaborated with world renowned perfumers Olivia Giacobetti and Jerome Epinette, explaining his olfactory ambitions and letting them create the combinations. The first fragrance they helped him develop was an overdose of green notes based upon memories of his childhood and his  father, who left the family when Ben was young. Over the next two and a half years he launched the Byredo collection – Green, Chembur, Pulp, Rose Noir and Gypsy Water.
The Byredo collection immediately took off.  Housed in clear black bottles with glossy black magnetic caps and monochrome labels, Byredo Perfumes quickly achieved status as a cult fragrance for those in the know.
This year, on their ten year anniversary, Byredo has unveiled five new fragrances. I haven't tried them all but I really like Unnamed, which is a limited edition. I was thrilled to be able get a great deal on a bottle at a recent scent event, lucky me:) Included in the promotion was a unbelievably delicious smelling fig candle.
Apparently Ben wanted to create a fragrance that leaves people free to create their own interpretation, with no semantic boundaries. What I smell in Unnamed are violet, amber, pepper and woods. The set of letters that are included gives you more than one chance to come up with a name you'll love. States the website: "No name. No direction. Just an immaculate label: the promise of a story to write as your own". I'm still working on a name for mine but having fun with it.
Some of my ideas:
Reclining Vixen, It's Raining Men, Gobsmacked, Chance Encounter, Dreamscape, Violet Actually, Driftwood, Free Spirit, Madame Oui.
To celebrate the holiday season this year, Byredo has released a limited edition of 6 iconic scents, La Selection de Fete. The price is $150.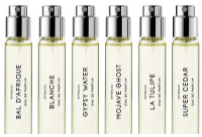 Housed in 12 ml collectors vials it includes the following uniquely interesting fragrances:
Bal D'Afrique – A warm and romantic vetiver inspired by late 20's Paris and its infatuation with African culture, music, art and dance. The mixture of Parisian avant-gardism and ethnic African culture create an intense experience. Neroli, African marigold and Moroccan cedarwood notes exude a sense of excess and euphoria.
Blanche – "The idea for Blanche is, as the name suggest, built around my perception of the color white. For the first time I actually made a fragrance for and with a specific person in mind. I wanted to capture her innocent and untainted side, with a fragrance almost transparent in nature. Blanche also represents an appreciation for classical beauty," says Ben. He names it after his wife Blanche who never wears perfume (any). Notes are aldehyde, pink pepper, white rose, neroli, peony, violet, blond woods, musk and sandalwood.
Gypsy Water – A glamorization of the Romany lifestyle which was based on the fascination with a myth. The scent of fresh soil, deep forests and campfires captures the dream of a colorful lifestyle close to nature. I smell bergamot, lemon, pine needle, amber, woods and vanilla.
Mojave Ghost – The soulful beauty of the Mojave Desert is both comforting and hostile. In this magical wilderness rare and unique species somehow manages to push out of the hard-baked ground and blossom. I pick out woods, musk and some other less identifiable notes, possibly magnolia.
La Tulipe – This one really speaks to me. I've always loved tulips but unlike most flowers they don't carry a scent. La Tulipe is such a lovely and delicate scent that begins smelling like freesia, which I adore, and eventually settles into a woodsy vetiver dry down.
Super Cedar – Cedar is a scent that we all recognize. It conjures up feelings of log cabins and simpler times. This one is on the more unisex side, even though all Byredo fragrances are unisex. There is rose at the opening but it quickly turns to cedar wood and vetiver in a lovely way.
Also new for Byredo is a joint collaboration with Oliver Peoples sunglasses. The inspiration for this alignment originates from the phenomenon "synthesia", which is a joint perception of senses, where the stimulation of one sense can produce an association with an entirely different one.
"Ben and I share a similar view on brand positioning and aesthetic and have always wanted to do a project together," says Oliver Peoples CEO Davis Shulte. "About a year ago he called me and said the word "synthesia" which I had never heard of. I loved it, of course, and from there we developed the concept of uniting sight and smell around an influence of LA."
The conception of this collaboration was achieved through Ben Gorham perceiving the sights of Los Angeles through different colored lenses and translating them into various smells. The effort resulted in an original frame designed by Oliver Peoples, through which the color of the lenses correspond with the fragrance custom-blended by Byredo.
The fragrances and sunglasses are sold separately, as well as in a bespoke box set with a custom made case and pouch. The set costs $530. Byredo Eau de Parfum sold separately costs $150 for a 50 ml bottle.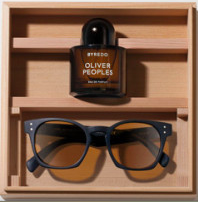 Fun fact: Ben Gorham is 6'5″ and also was a former professional basketball player in Stockholm after leaving college and before attending art school.
According to Gorham, Byredo's target group of customers is women and men between the ages of 18 and 85. The perfumes can be purchased at Byredo stores in 12 cities in the US or on their website. If you are fortunate enough to visit an actual brick and mortar store, their knowledgeable sales staff will work with you to find something you'll love. During a recent visit to their Soho NYC location, they took me on an extensive scent sampling that was an experience in and of itself.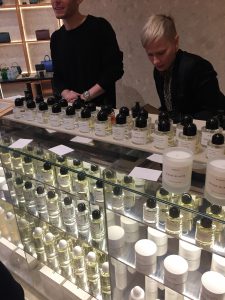 Barneys, Bergdorf Goodman and Neiman Marcus are other places you'll find Byredo.  Beautyhabit.com and luckyscent.com also carry their fragrances.
Byredo,  Je t'aime!
Until the next time,