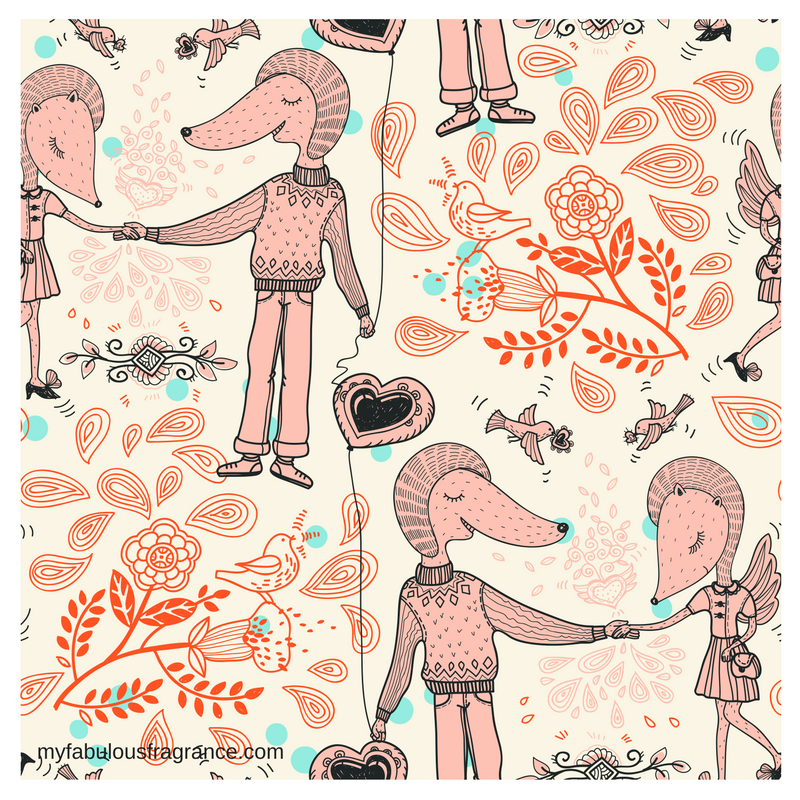 Well I don't want to be the bearer of bad news or even wanting to remind you that I have an Amazon Wish List or anything but…
Are you starting to think about Valentines Day, possibly getting hints from your partner or significant other? Maybe you don't need a hint, maybe you are a hopeless romantic and booked your getaway a year ago with the gifts wrapped and stashed away since before Christmas.
But if you happen to be like most of us you don't start thinking about Valentines Day until a week or two before it arrives. The truly disorganized will wait until the day of to frantically purchase that box of chocolates or bouquet of flowers which, though lovely, are solid proof that there was absolutely no planning involved.
If your sweetheart happens to love fragrance, I'll let you in on a little secret:
January and March are the best times to buy fragrance, after Christmas and after Valentines Day. Savvy gift-givers will snag perfume bargains in January for Valentines Day and in March for Mothers Day. 
Wouldn't it be nice to not have to scramble at the last minute to find something that she or he will "Ooh and Ahh" over?
If you're feeling clueless, here are a few fragrant suggestions of the 10 best scents for women and 10 best scents for men that were released in 2016:
For Her:


1. Angel Muse by Thierry Mugler
– The latest addition to the famous gourmand, Angel, this has been described as a "futuristic gourmet". The fragrance contains the sweet accord of hazelnut cream with the more masculine character of vetiver to balance its creamy sweetness. Anything but boring and predictable. (Around $120 for 1.7 oz. bottle)
2. Aventus for Her by Creed
– After the huge success of the masculine fragrance Aventus, launched in 2010, Creed decided to come out with its female version, Aventus for Her. Empowering, confident and deliciously fruity, this is just as addicting as its legendary male counterpart. (Around $270 for 30 ml. bottle)

3. Narciso Poudree by Narciso Rodriguez
 – If she's into powdery florals this is the one. Enhanced by sensuous notes of rose petals, iris and hints of amber, the result is a very luxurious and elegant fragrance. A surprising number of guys  are buying it for themselves and I understand why after getting a whiff of a man wearing it on the train recently. (Around $80 for 3.0 oz. bottle)

4. Poison Girl by Christian Dior
– She'll love this new addition to the Poison line-up if she's a gourmand lover who goes for vanilla, almond, orange and tonka bean scents. After wearing it for an hour or so it seems to get even sweeter. Can't tell if it's toffee or caramel but it's divine. This candied little gem delivers the quality, long-lasting power and provocation we've come to expect from Dior. (Around $88 for a 3.4 oz. bottle)

5. 
Orchid Soleil by Tom Ford
– Refreshingly different from the typical Tom Ford scents which tend to be on the heavier, more masculine side, Orchid Soleil is a lighter, more flowery perfume. It's perfect even for someone who normally stays away from florals due to its enchanting blend of tuberose petals, black orchid, vanilla, chestnut, cream and patchouli. (Around $130 for  3.4 oz. bottle)


6. Be Tempted by Donna Karan
– The latest addition to Donna Karan's line of perfumes, following Be Delicious and Be Desired. Conceived as an exciting and alluring evening fragrance of spicy oriental accords, it is represented as a juicy red apple. There is a slight sharpness to this sweet, delicious and flirty scent which makes it interesting. The notes are black current, licorice, juicy red fruit, apple, violet and patchouli. Love that snake on the bottle! (Around $57 for 3.4 oz.  bottle)


7. Chloe Fleur de Parfum by Chloe
– This is the newest edition of the popular Chloe perfume from 2008 and retains many of the characteristics of the original but with added flower power. A delicate and powdery composition, it was designed to create the essence of a flower in full bloom. The prominent notes are rose pistil, fresh verbena blossom, almond cherry blossom and powdery rice. A truly captivating citrusy rendition of the original, slightly softer and more clean smelling. (Around $65 for 2.5 oz. bottle)
8. Daisy Eau So Fresh by Mark Jacobs
 – A perfect blend of fruit and musk, Daisy Eau So Fresh is a spirited new edition of the original Daisy. It sends you to a place of happiness and sunshine, where everything is simple and without drama. The key notes are red raspberry, grapefruit, wild rose, violet, warm plum and musk. The mood it strikes is playful yet elegant with a youthful spirit. (Around $60 for 4.2 oz. bottle)
9. 
La Femme by Prada
– Sweet, quiet and ladylike, the floral bouquet of tuberose, yang-ylang and frangipani is perfectly crisp and balanced. The floral notes are transformed first with spice and beeswax to a captivating base of vetiver and vanilla. This was released by Prada as a new pair of his and hers fragrances, with L'Homme  being the male version. While I'm a big fan of La Femme, I'm not as wild about L'Homme. (Around $122 for 3.4 oz. bottle)
 10. Tangier Vanille by Aerin
 – A lovely new oriental, Tangier Vanille is extraordinarily  warm, sensuous and slightly mysterious. A perfect blend of Madagascar vanilla, tangy Italian bergamot, elegant rose, luscious sandalwood and creamy amber.  It evokes a feel of the Orient – Morocco – the fabulous bazaars and the splendor of all of the colors and smells. This is a truly gorgeous vanilla perfume. (Around $130 for 1.7 oz. bottle)
For Him:
1. 
Bracken Man by Amouage
 – From the luxury line Amouage, this exciting new fragrance has become an instant hit. Named after Bracken, one of the oldest and most resilient ferns in history, it evokes a subtle and enigmatic masculinity. It starts out with delicious top notes of lavandin, nutmeg and clove and is followed by tart lemon and bright bergamot as well as cinnamon, cedarwood and sandalwood. There is an earthy character in the base which is created by notes of musk and patchouli. Do I detect cypress too? Pretty sure yes! (A 3.3 oz bottle is around $325)
2. Pasha Edition Noire by Cartier
 – This one is a show stopper without going overboard, meaning it's extremely masculine without being intimidating. It was inspired by the Pasha of Marrakech, who commissioned Cartier to design a number of watches for him way back when. This latest edition is a combination of fresh green citruses and powerful resins with a hint of mint at the opening. Spicy, sweet, woody in perfect proportion. (A 3.4 oz. bottle is around $60)
3. Pour Homme Dylan Blue by Versace
– Donatella Versace describes their new fragrance as "strong, fresh and seductive". For men who may already be wearing their popular Versace Pour Homme or Eros, this could be a new and zingy addition to his Versace collection. Dylan Blue's notes include bergamot, violet leaf, black pepper, fig, aquatic notes, woods, patchouli, musk and incense. (A 1.7 oz. bottle is around $50)
4. Dark Rebel Rider by John Varatos – If your guy is an unconventional bad boy or secretly wishes to become one he'll love it (and you'll be the lucky recipient of that spike in mojo). Bold, sleek and inspired by the world of motorcycle racing and the iconic leather jacket, the fragrance delivers a knockout punch of sexy leather, amber and dark woods. It evokes an aura of fearlessness and restlessness. (A 2.5 oz. bottle is around $70)
5. 
Aqua Classic by David Beckham
– A new edition to his David Beckham Classic cologne, this scent is divinely masculine and seductive. An aromatic woody fragrance which opens on a fusion of green violet leaves, spicy cardamom and lemon before releasing the heart notes of sage, artemisia and geranium. The base notes of suede, patchouli and vetiver make this strikingly sophisticated and sensuous. (A 2 oz. bottle is around $115)
6. Icon Elite by Dunhill
 – Dunhill's commitment to using only the finest ingredients is totally at work here in its latest expression of olfactory masculinity. Very intensely woody with notes of sandalwood, orange flower leaf and vetiver blend perfectly with sweet cardamom. Designed to meet the needs of the most discriminating gentleman. (A 1.7 oz. bottle is approximately $175)
7. No. 3 by Alford & Hoff
 -As businessmen and former athletes, founders Barry Alford and Jefferson Hoffman have a deep understanding of the rewards of peak performance.  Created by world-class perfumer, Rodrigo Flores-Roux of Givaudan, Alford & Hoff No. 3 is an ultra contemporary aromatic scent with a visionary almost abstract feeling of amplitude. Constructed around a woody personality, this energetic scent boasts a trio of vetiver abstracts that are highlighted by an innovative series of "industrial" notes and accords. (A 3.4 oz. bottle is approximately $90)
8. Summer Men 2016 by Tommy Hilfiger
– A new addition to the popular Tommy Hilfiger line of perfumes and colognes, this spicy scent contains notes of citrus, mint, pepper, ginger, amber and tonka beans. Ideal for the well-dressed, clean cut guy who stays away from musky, heavier colognes. (A 3.4 oz. bottle is approximately $25)
9. Eternity Intense for Men by Calvin Klein
 – A woody aromatic fragrance with notes of bergamot, black tea, white pepper, lavender, iris, geranium, cedar, smokey resin and vetiver, this is a new rendition of 1989's Eternity for Men. Just released in December 2016 along with Eternity Intense (for women), the duo represents "love that has turned into something more powerful – a passionate and unbreakable connection." Sensual and rare iris flower is given credit for giving the scent its elegance and power. (A 3.4 oz. bottle is approximately $84)
10. Blackpepper by Comme de Garcons
 – Perfumer Antoine Maisondieu, who also created a number of Bottega Veneta and Burberry scents, is the nose behind this winning cologne. While the name might lead you to expect a bold, sneezy scent, Blackpepper is anything but. Its notes include Madagascan pepper, cedar wood, tonka bean and patchouli, which form a subtle almost gentle fragrance after an initial peppery blast. Blackpepper will be best appreciated by someone who loves comforting scents that are out-of-the-ordinary. (A 3.3 oz. bottle is approximately $130)
If you need more ideas of new fragrances to try, check out my previous post What's New In Perfumeland.
I hope this has given you some ideas on what to get the apple of your eye. If you happen to be riding solo or somewhere in the "It's Complicated" zone this Valentines Day, think about getting a gift for yourself. Your relationship with yourself is the most important one you can cultivate. After all, you deserve it!
Until the next time,